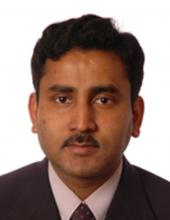 Centre/School/Special Centre
School of Life Sciences
Email
anandaksarkar@mail.jnu.ac.in, aksarkar.jnu@gmail.com
Qualifications
Ph.D. :Albert-Ludwigs-Universitaet Freiburg (Germany).
M.Tech. : Indian Institute of Technology (IIT)-Kharagpur.
M.Sc. :Visva Bharati (Shantiniketan).
Areas of Interest/Specialization
Plant developmental biology (shoot and root stem cells, and architecture):
Genetic and epigenetic regulations of plant stem cells and architectures (root & shoot).

Role of small RNAs in regulation and shoot/root architecture and physiology.

Genome-editing and crop improvement (shoot/root, physiology and yield).

Evolutionary conservation of genes/miRNAs involved in plant development.
Experience
| | | |
| --- | --- | --- |
| (2020 onwards) | : | Professor (of Plant Development Biology), SLS, JNU, India. |
| (2009-2020) | : | Staff Scientist, National Institute of Plant Genome Research (NIPGR), India. |
| (2009 – 2014) | : | Ramalingaswami Fellow, NIPGR, India. |
| (2009 ) | : | Ramalingaswami Fellow, ICGEB, India. |
| (2006-2009) | : | Post-doctoral Fellow, Cold Spring Harbor Laboratory, USA. |
| (2001 ) | : | Research Associate, National Research Centre on Plant Biotechnology (NRCPB), India. |
Mentorship: Ph.D. (07), M.Tech/M.Sc. dissertation (14), N-PDF (04), CSIR-SRA (02), DBT-RA (01), CSIR-RA (01), other Research Associates, SRFs, and JRFs.
Teaching: Plant developmental biology.
Awards & Honours
FNASc (Fellow National Academy of Sciences, India)

Ramalingaswami Re-Entry Fellowship (DBT, 2009- 2014).

Prof. Archana Sharma Memorial Award (ISCA, 2010-2011).

"Suma Cum Laude" (best grade award for Ph.D., University of Freiburg, Germany).

Member of New York Academy of Science (2007-08) & AAAS, USA (2008-10).

Postdoctoral Fellowship (2006- 2009; at Cold Spring Harbor Lab, USA).

Doctoral fellowship (2001- 2006) from German/European Research Foundations (DFG/SFB/REGIA).

DBT Fellowship (1998-1999) for M.Tech. (through GATE; at IIT- Kharagpur).
International Collaboration/Consultancy
-
Best Peer Reviewed Publications
Gautam V, Singh A, Yadav S, Singh S, Kumar P, Sarkar Das S, and Sarkar AK*. Conserved LBL1-ta-siRNA and miR165/166-RLD1/2 modules regulate root development in maize. Development. 2021 Jan 5;148(1):dev190033. doi: 10.1242/dev.190033.

Singh S, Yadav S, Singh A, Mahima, Singh A, Gautam V, and Sarkar AK*. Auxin signaling modulates LATERAL ROOT PRIMORDIUM1 (LRP1) expression during lateral root development in Arabidopsis. Plant J. 2020 Jan;101(1):87-100. doi: 10.1111/tpj.14520.

Kumar A, Singh A, Kumar P, and Sarkar AK*. GAST proteins evolved through successive conjugation of novel motifs and their sub-functionalization. Plant Physiol. 2019 Jun;180(2):998-1012. doi: 10.1104/pp.19.00305.

Douglas RD, Wiley D, Sarkar AK, Springer, N., Timmermans, MCP and Scanlon, MJ ragged seedling2 Encodes an ARGONAUTE7-Like Protein Required for Mediolateral Expansion, but Not Dorsiventrality, of Maize Leaves. Plant Cell.2010 May;22(5), 1441-51.

Sarkar AK, Luijten M, Miyashima S, Lenhard M, Hashimoto T, Nakajima K, Scheres B, Heidstra R, and Laux T. Conserved factors regulate signalling in Arabidopsis thaliana shoot and root stem cell organizers. Nature.2007 Apr 12 446(7137), 811-4.
(*corresponding author)
Recent Peer Reviewed Journals/Books
Gautam V, Chatterjee S, Sarkar AK

*

. Single Cell Type Specific RNA Isolation and Gene Expression Analysis in Rice Using Laser Capture Microdissection (LCM)-Based Method.

Methods Mol Biol

. 2021;2238:275-283. doi: 10.1007/978-1-0716-1068-8_18.
Yadav S, Sarkar DS, Kumar, P, Mishra, V, and Sarkar AK*. Chapter: Tweaking microRNA-mediated gene regulation for crop improvement (chapter 3). Book:

Advancement in Crop Improvement Techniques.

2020.

26 June, Page 45-66. Wood Head Publishing, Elsevier Inc. UK. doi:10.1016/B978-0-12-818581-0.00003-6. ISBN: 978-0-12-818581-0.
Singh S, Singh A, Singh A, Mahima, Yadav S, Bajaj I, Kumar S, Jain A, and 

Sarkar AK*

. Role of chromatin modifiers in stem cell regulation and meristem maintenance in Arabidopsis.

 J Exp Bot.

2020 Jan 23;71(3):778-792.  doi: 10.1093/jxb/erz459.