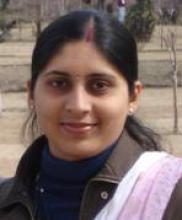 Centre/School/Special Centre:
School of Physical Sciences
Email:
ankitarai@mail.jnu.ac.in , ankitagalaxy@gmail.com
Qualifications:
Ph. D. (2009, University of Allahabad, Allahabad, India) 
Areas of Interest/Specialization:
My research work is in the field of Synthetic Organic Chemistry placing emphasis on the development of new synthetic routes to potentially bioactive heterocycles using organocatalytic reactions, Baylis-Hillman reaction, nitroalkenes, ionic liquids and bio-renewable resources. My present concentration is on the field of organocatalysis, envisioned multicomponent stereoselective synthesis of heterocycles via organocatalysis. 
Experience:
Research Associate : Council of Scientific and Industrial Research (CSIR), Allahabad, India (2010). 

Inspire Faculty : Department of Science and Technology (DST) Inspire Faculty Fellowship, India (2013). 

Assistant Professor : Jawaharlal Nehru University, New Delhi, India (2013). 
International Collaboration/Consultancy:
Awarded "J. S. Dasgupta Young Scientist Award" of "Indian Chemical Society" (ICS) in 2011 
Best Peer Reviewed Publications (upto 5):
1. Cyclopropenone Catalyzed Direct Conversion of Aldoximes and Primary Amides to Nitriles; 
Ankita Rai & L. D. S. Yadav; 
Eur. J. Org. Chem. 2013, 3127-3131. 

2. NHC-catalysed diastereoselective synthesis of N-formyl piperidines via direct annulation of enals and oxazol-5-ones; 
A.K. Singh, R. Chawla, Ankita Rai & L.D.S. Yadav;
Chem. Commun. 2012, 48, 3766-3768.

3. A new application of Baylis Hillman Alcohols to a stereoselectiove synthesis of 3-nitrothietanes; 
Ankita Rai & L.D.S. Yadav; 
Tetrahedron 2012, 68, 2459-2464.

4. Strategic application of Baylis Hillman Adducts to general synthesis of 3- Nitroazetidines; 
Ankita Rai & L.D.S. Yadav; 
Org. Biomol. Chem. 2011, 9, 8058-8061.

5. [2+2] Annulation of aldimines with sulfonic acids: a novel one-pot cis-selective route to ß-sultams; 
Ankita Rai, V.K. Rai, A.K. Singh & L.D.S. Yadav; 
Eur. J. Org. Chem. 2011, 4302-4306.