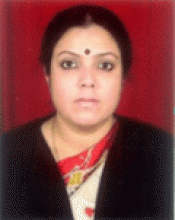 Centre/School/Special Centre:
Centre for the Study of Regional Development,
School of Social Sciences
Email:
anuradha@mail.jnu.ac.in banerjee.anb@gmail.com
Qualifications:
Ph. D. 1997; M.Phil 1989; MA 1987; BSc. Honours 1984 
Areas of Interest/Specialization:
Urban Geography; Population Issues including urbanization and migration; urban environment; maternal and child health; reproductive health; sexual health, HIV / AIDS; Human Ecology; Integrated Coast Zone Management; Development Studies (Women and Child Development); Human Settlements and Application of Remote Sensing and GIS in Geographical analysis. 
Experience:
Teaching 15 years; Research 28 years 
Awards & Honours:
Adjunct Professor Indian Institute of Dalit Studies; 
Vice President Indian National Cartographic Association 
International Collaboration/Consultancy:
1. 2013-2014: Ongoing Consultancy Research Project on "Exploring the Effectiveness and Impact: Think-Tanks – University Relationships in South Asia, sponsored by International Development Research Centre in collaboration with IIDS, New Delhi.
2. 2009: Undertaken a study of Goa Chapter, in the project entitled "Evaluation of UNIFEM Anti-Trafficking Programme in South Asia, Sponsored by UNIFEM.
3. 2003-2006: Conducted research in a project entitled "Inter GIS Programme on International Curriculum Development", sponsored by European Union in collaboration with Geography Department, Salzburg University, Austria.
Best Peer Reviewed Publications (upto 5):
1. 2013: "Post Globalization Trends in Urbanization in Asia", published in Challenges of Urbanization in the 21st Century, Vol 4 : Urbanization and Urban Growth, edited by Kalpana Markandey et al, Concept Publishing Company, New Delhi, pp113-135, ISBN-13:978-81-8069-951-1.
2. 2013: "Slums in Indian Metropolis: Challenges to Urbanization and Urban Development in the 21st Century", published in Urban Poverty: Issues and Challenges, edited by Sister Maria Rashmi A.C. et al, Rajesh Publications, New Delhi (India), pp. 83-124, ISBN: 81-85891-25-8.
3. "GIS Mapping of Urban Deprivation and the Construction of the Index of Substandard Living in Kolkata Metropolis", (co-authored) Indian Cartographer, Vol 32, 2012, pp. 205-209; ISSN 0972-8392.
4. 2011: Spatial Pattern and Processes of Population Dynamics and Regional Development in Sundarban Delta, West Bengal (co-authored), Journal of Landscape Systems and Ecological Studies, Special Volume on Ecological Problems in Geography; Vol:34, December, 2011, No. 2. pp121. - 134, ISSN 0971-4170.
5. 2009: "Urban Challenges in 21st Century India: Urbanization and its Impact on Environment and Infrastructure", published in Urban Environment and Informatics, Rawat Publications, New Delhi (India), pp 1-33. ISBN 81-316-0256. 
Recent Peer Reviewed Journals/Books (upto 3):
1. 2013 "Contemporary Urbanisation in India: Issues and Challenges in the 21st Century" (Sole Editor) Published by Concept Publishing Company, New Delhi, Pages 508, (ISBN No.978-81-8069-954-2)
2. 1998 "Environment, Population and Human Settlements of Sundarban Delta." (Self authored) Published by Concept Publishing Company, New Delhi. Pages 424, price Rs 500, (ISBN No.81-7022-739-9)