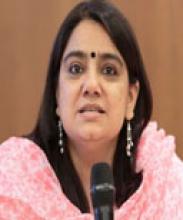 Centre/School/Special Centre:
Centre for International Politics, Organization and Disarmament,
School of International Studies
Email:
archnanegi@mail.jnu.ac.in , archnanegi@rediffmail.com
Qualifications:
B.A. in Political Science (Delhi University)
M.A. in Political Science (Delhi University)
M.Phil. in International Law (Jawaharlal Nehru University)
Ph.D. in International Law (Jawaharlal Nehru University)
Bachelors in Law (LL.B.) (Delhi University)
Areas of Interest/Specialization:
International Organization; International Law; International Trade and the World Trade Organization; Environment; Climate Change; Human Rights 
Experience:
* Senior Law Officer and Consultant, World Wide Fund for Nature-India (July 1998 – September 2000)

* Research Associate, Centre for Development and Human Rights (September 2002 – March 2004)

* Visiting Scholar at the Trade and Environment Division of the World Trade Organization, Geneva (October – December 2007)

* Guest Faculty at various institutions such as the Central University of Gujarat (CUG), the South Asian University (SAU), the Indian Society of International Law (ISIL), the Indian Law Institute (ILI), the Indian Institute of Foreign Trade (IIFT), TERI University, V.V. Giri National Labour Institute (VVGNLI), etc.

Teaching Experience at JNU (2004 – present): 
Taught M.Phil. Courses on International Economic and Financial Organizations and International Regional Organizations and B.A. Courses on Introduction to the United Nations System and Introduction to World Politics
Currently teaching M.A. Core Course on International Organization 

Supervised three Ph.D. theses and 14 M.Phil. dissertations on different contemporary topics relating to International Organization  
Best Peer Reviewed Publications (upto 5):
* (2014), "India and the Climate Change Regime" in Amitabh Mattoo and Happymon Jacob, India and the International System: Theory, Policy and Structure, Australia-India Institute Series in Foreign Policy and International Relations, New Delhi: Manohar Publications, pp. 287-320.
* (2013) "International Labour Organization and Domestic Work", Labour & Development, 20(1), pp.19-48.
* (2007), "Precaution, Risk and Biotechnology: A Comparison of the Cartagena Protocol on Biosafety and the WTO Agreement on the Application of Sanitary and Phytosanitary Measures", In K.D. Raju, Genetically Modified Organisms: Emerging Law and Policy in India, New Delhi: TERI Press, pp.93-114.
* (2005), "WTO and the Environment: An Overview", In J.K.Mittal and K.D. Raju, World Trade Organization & India: A Critical Study of Its Fist Decade, Delhi: New Era Law Publications, pp.300-21.
* (2003), "The WTO Asbestos Case: Implications for the Trade and Environment Debate", Indian Journal of International Law, 43(1), pp.93-107.  
Recent Peer Reviewed Journals/Books (upto 3):
* Arjun Sengupta, Archna Negi and Moushumi Basu (eds.) (2005), Reflections on the Right to Development, New Delhi: Sage Publications.