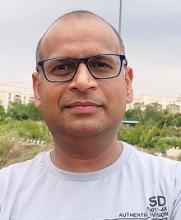 Centre/School/Special Centre
School of Biotechnology
Email
arvindpsingh@mail.jnu.ac.in
Qualifications
Ph.D, CSIR-IITR, Lucknow, India
Areas of Interest/Specialization
Antimicrobial Resistance & Traditional Indian Medicine Microbiome
Experience
14 years
Assistant Professor: 2013-2023, Central University of Rajasthan
Post Doctoral Fellow:2008-2012, Genome Institute of Singapore, A-Star Agency, Singapore
International Collaboration/Consultancy
Best Peer Reviewed Publications
Priyanka P, Meena PR, Raj D, Rana A, Dhanokar A, Duggirala KS, Singh AP. Urinary tract infection and sepsis causing potential of multidrug-resistant Extraintestinal pathogenic E. coli isolated from plant-origin foods. Int J Food Microbiol. 2023, 2;386:110048
Meena PR, Priyanka P, Rana A, Raj D, Singh AP. Alarming level of single or multidrug resistance in poultry environments-associated extraintestinal pathogenic Escherichia coli pathotypes with potential to affect the One Health. Environ Microbiol Rep. 2022 Jun;14(3):400-411
Meena PR, Yadav P, Hemlata H, Tejavath KK, Singh AP. Poultry-origin extraintestinal Escherichia coli strains carrying the traits associated with urinary tract infection, sepsis, meningitis and avian colibacillosis in India. J Appl Microbiol. 2021 Jun;130(6):2087-2101
Priyanka, Meena PR, Meghwanshi KK, Rana A, Singh AP. Leafy greens as a potential source of multidrug-resistant diarrhoeagenic Escherichia coli and Salmonella. Microbiology (Reading). 2021 Jun;167(6).
Singh AP, Lai SC, Nandi T, Chua HH, Ooi WF, Ong C, Boyce JD, Adler B, Devenish RJ, Tan P. Evolutionary analysis of Burkholderia pseudomallei identifies putative novel virulence genes, including a microbial regulator of host cell autophagy. J Bacteriol. 2013 Dec;195(24):5487-98.
Singh AP, Shah PP, Mathur N, Buters JT, Pant MC, Parmar D. Genetic polymorphisms in cytochrome P4501B1 and susceptibility to head and neck cancer. Mutat Res. 2008 Mar 1;639(1-2):11-9.
Recent Peer Reviewed Journals/Books
Rani A, Rana A, Dhaka RK, Singh AP, Chahar M, Singh S, Nain L, Singh KP, Minz D. Bacterial volatile organic compounds as biopesticides, growth promoters and plant-defense elicitors: Current understanding and future scope. Biotechnol Adv. 2023 Mar-Apr;63:108078.
Meena PR, Priyanka P, Singh AP. Extraintestinal pathogenic Escherichia coli (ExPEC) reservoirs, and antibiotics resistance trends: a one-health surveillance for risk analysis from "farm-to-fork". Lett Appl Microbiol. 2023 Jan 23;76(1):ovac016.
Nandi T, Ong C, Singh AP, Boddey J, Atkins T, Sarkar-Tyson M, Essex-Lopresti AE, Chua HH, Pearson T, Kreisberg JF, Nilsson C, Ariyaratne P, Ronning C, Losada L, Ruan Y, Sung WK, Woods D, Titball RW, Beacham I, Peak I, Keim P, Nierman WC, Tan P. A genomic survey of positive selection in Burkholderia pseudomallei provides insights into the evolution of accidental virulence. PLoS Pathog. 2010 Apr 1;6(4):e1000845.
Singh AP, Pant MC, Ruwali M, Shah PP, Prasad R, Mathur N, Parmar D. Polymorphism in cytochrome P450 1A2 and their interaction with risk factors in determining risk of squamous cell lung carcinoma in men. Cancer Biomark. 2010-2011;8(6):351-9.
Aggarwal S, Negi S, Jha P, Singh PK, Stobdan T, Pasha MA, Ghosh S, Agrawal A; Indian Genome Variation Consortium; Prasher B, Mukerji M. EGLN1 involvement in high-altitude adaptation revealed through genetic analysis of extreme constitution types defined in Ayurveda. Proc Natl Acad Sci U S A. 2010 Nov 2;107(44):18961-6.
HUGO Pan-Asian SNP Consortium; ….; Indian Genome Variation Consortium. Mapping human genetic diversity in Asia. Science. 2009 Dec 11;326(5959):1541-5
Singh AP, Shah PP, Ruwali M, Mathur N, Pant MC, Parmar D. Polymorphism in cytochrome P4501A1 is significantly associated with head and neck cancer risk. Cancer Invest. 2009 Oct;27(8):869-76.
Indian Genome Variation Consortium. Genetic landscape of the people of India: a canvas for disease gene exploration. J Genet. 2008 Apr;87(1):3-20. doi: 10.1007/s12041-008-0002-x.