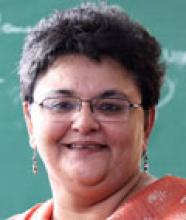 Centre/School/Special Centre:
School of Language, Literature and Culture Studies
Email:
ayesha@mail.jnu.ac.in , ayesha.kidwai@gmail.com
Areas of Interest/Specialization:
Generative syntax and morphology, field linguistics, the politics of language, translation, Partition studies 
Awards & Honours:
Infosys Prize in the Humanities-Theoretical Linguistics in 2013. 
International Collaboration/Consultancy:
Senior Editor, Oxford Research Encyclopaedia
Visiting Professor in a number of institutions in the US and Europe. 
Best Peer Reviewed Publications (upto 5):
"Languages or Mother Tongues? India's Linguistic Diversity". In What the Nation Really Needs to Know: The JNU Lectures on Nationalism, edited by Janaki Nair, HarperCollins India [2017].

"Verb Agreement in Hindi and its Acquisition", jointly withBenu Pareek,\ and Sonja Eisenbeiss. In Rahul Balusu and Sandhya Sundaresan edited Proceedings of FASAL 5.

"The Question of Language in Education". In the Economic and Political Weekly, Vol. 51, Issue No. 35, 27Aug, 2016.

"Recovering Hybridity in Cosmopolitan Spaces: Delhi, Urdu, and Punjabi". In Hybridity, edited by Rama Kant Agnihotri and Tatiana Oranskaia, 2015. Orient Black Swan. [2014]

"The Cartography of Phases" in the volume Edges in Syntax edited by A.-M. diScuillo and V. Hill. 2010. John Benjamins: Amsterdam. 
Recent Peer Reviewed Journals/Books (upto 3):
Linguistic Structure and Language Dynamics in South Asia. 2000. Co–edited with Anvita Abbi and R.S. Gupta. Motilal Banarsidas: New Delhi.

XP–Adjunction in Universal Grammar: Scrambling & Binding in Hindi–Urdu. 2000. In the Richard Kayne (edited) series on Comparative Syntax. Oxford University Press: New York.