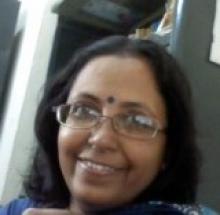 Centre/School/Special Centre:
Centre for the Study of Regional Development,
School of Social Sciences
Email:
bhaswati@mail.jnu.ac.in , bhaswati2004@gmail.com
Areas of Interest/Specialization:
Population and Development with special emphasis on Maternal and Child Health, Migration, Ageing and Nuptiality
Best Peer Reviewed Publications (upto 5):
* Gender Issues in Development (2009) by Rawat Publication edited jointly with Vimal Khawas, Jaipur

* Transition of Preferred Size and Sex Composition: A Behavioural Mechanism, The Journal of Family Welfare, Vol. 42, No. 1, March 1996.

* Decision making and fertility behaviour: A comparative analysis of scheduled caste and scheduled tribe women in Odisha in Social Change, 41(2), 2011, pp. 233-249, Sage Publications, New Delhi

* Household Quality of Living in Indian States: Analysis of 2011 census, Environment and Urbanisation Asia Vol.4(1), March, 2013 pp.151-171, Sage Publishers. 

* Maternal Complications in Eastern States of India with Special Reference to West Bengal (with Dipika Subba), in The Journal of Family Welfare 06/2014;.60(1):Page 58. 
Recent Peer Reviewed Journals/Books (upto 3):
* Environmental Legislation and Livelihood Conflicts of Fishermen in Sundarban, India" in Asian Profile. 43(4). 2015, pp 389-400

* Excluded by Health Services: Maternal Health Care Utilisation by Women Construction Labourer in Bhubneswar City, Odisha in Labour & Development (Special issue on Labour & Health), 22(2), December 2015, ISSN 0973-0419

* Contextualizing Feminization of Trans-Border Migration in Uttar Pradesh and Bihar in India. IMDS Working Paper Series No. 89, ZHCES, JNU.