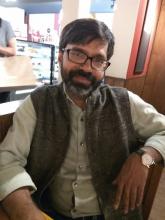 Bikramaditya Kumar Choudhary
Centre/School/Special Centre:
Centre for the Study of Regional Development,
School of Social Sciences
Email:
bkchoudhary@mail.jnu.ac.in
Areas of Interest/Specialization:
Regional Disparity and Development, Resource Conflict and Peace, Urbanization and Urban Development, Health and Disease, Political Ecology 
Experience:
Taught 9 years at Banaras Hindu University prior to joining JNU in May 2013
Awards & Honours:
2002- M. K. Thavraj Award (Jawaharlal Nehru University) for the highest grade point in M. Phil. Course Work for the year 2000-2001.
2003- Jawaharlal Nehru Young Leaders Fellowship (Nippon Foundation, Tokyo Foundation, Tokyo and Jawaharlal Nehru University, New Delhi)
2017 - Emerging Scholar Award, Regional Development and Planning Speciality Group of American Association of Geographers (AAG)
2018 - Endeavour Executive Fellow at Western Sydney University, Australia, May-August. 
International Collaboration/Consultancy:
2011-12 - Social Cost Benefit Analysis for Sondhia Coal Block, Sarguja District of Chhatishgarh (jointly with IIT BHU)
2018-2020 – Waterscape in Urbanizing Asia: Geographies of Water Accessibility, Vulnerability, Privatization, and Everyday Practices (Collaborator), located at NIT, Singapore.
2016-2018 – Transformative Pathways to Sustainability: Learning across Disciplines, Contexts and Cultures, (Project Director) joint Project of ISSC, University of Sussex and TRCSS JNU
Best Peer Reviewed Publications (upto 5):
'Formation and (re)Formation of Spatial identities under globalization', Journal of Regional Development and Planning, Vol. 3, No. 1, pp. 35-48: 2014
'Health, Illness and Disease: A Political Ecology Perspective', Economic and Political Weekly, Vol. 49, No. 45, pp. 60-68: 2014
'Vulnerability of Women to Bacillus: Myths and Realities in Colonial India', in Deepak Kumar and Raj Sekhar Basu, (eds.) Medical Encounters in British India, Oxford University Press, New Delhi, 2013

'Political Ecology of Urban Water Supply: Case of Susuwahi, Varanasi City, India', Urban India, 32(1), Journal of National Institute of Urban Affairs New Delhi 2012

'Garbage-combers of Delhi: Aspects of Deprivation', Indian Journal of Social Work, 69 (4), Publication of Tata Institute of Social Sciences Mumbai, 2008

'Waste and Waste-pickers', Economic and Political Weekly 38(50), Sameeksha Trust, Mumbai 2003 
Recent Peer Reviewed Journals/Books (upto 3):

'Sustainable Urbanization: A Conceptual Discourse', Espacialidades (Spatiality) Published by The Autonomous Metropolitan University (UAM) Mexico, Vol. 6, No 1, pp. 5-36: 2016
'Architectures of Fear and Spaces of Hope in Banaras:  A City beyond Monolithic Identity', Asian Journal of Social Science, Vol. 44, pp. 34-53: 2016 (co-authored with Brahma Prakash
'Upward Movement vs. Outward Movement: Resource, Development and Indigenous People', Transaction of IIG, Pune, Vol, 39, No. 1, PP. 25-35:2017