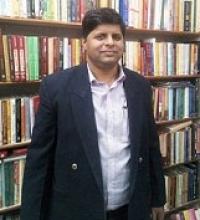 Centre/School/Special Centre:
Centre for Historical Studies,
School of Social Sciences
Email:
bnprasad@mail.jnu.ac.in , bp2629@gmail.com
Qualifications:
MA in History,  JNU. I was the topper of the batch in the Ancient Indian History section.
M.Phil in History, JNU.
PhD in History, JNU.
Areas of Interest/Specialization:
Religion and society in ancient and early medieval India, archaeological history of Indian religions, Buddhist revival movements in contemporary Northern India, Economic History, History of Southeast Asia.
Experience:
As a permanent faculty (Assistant Professor) in the UGC pay scale in the P.G. Department of History of two Central Universities, I have more than 14 years of P.G. teaching experience. I have taught in MA, M. Phil (coursework)   and PhD (coursework) classes and supervised M.Phil research.
Best Peer Reviewed Publications (upto 5):
'Major Trends and Perspectives in Studies in the Functional Dimensions of Indian Monastic Buddhism in the Past One Hundred Years: A Historiographical Survey', Buddhist Studies Review, Journal of the UK Association for Buddhist Studies, London, Vol.25, No.1, 2008,  pp.54-89.
'Urbanization at Early Historic Vaiśālī, c. BCE 600-CE 400', Social Science Probings, Vol.21, No.1 , June 2009 ,  pp. 21-46. 
 'Brahmanical Temples, Maṭhas,  Agrahāras and a Buddhist Establishment in a Marshy and Forested  Periphery of Two 'Frontier' States : Early Medieval Surma Valley (Sylhet and Cachar), c.600CE -1100 CE',  Religions of South Asia, London, Vol. 6.1,  2012, pp.33-60.
"Cultic Relationships Between Buddhism and Brahman­ism in the 'Last Stronghold' of Indian Buddhism: An Analysis with Particular Reference to Votive Inscriptions on Brahmanical Sculptures Donated to Buddhist Religious Centres in Early Medieval Magadha", Buddhist Studies Review, Journal of the U.K. Association for Buddhist Studies, London , Vol. 30, no. 2, 2013 , pp. 181-199.  
'The Socio-Religious Dimensions of Dedicatory Inscriptions on Sculptures Donated to a Buddhist Establishment in Early Medieval Magadha: Kurkihar , c.800 CE-1200 CE', Journal of the Oxford Centre for Buddhist Studies¸ Vol. 7, 2014, pp. 116-152.
Recent Peer Reviewed Journals/Books (upto 3):
A Folk Tradition Integrated into Mahāyāna Buddhism:   Some Observations on the Votive Inscriptions on Sculptures of  Puṇdeśvarī/Pūrṇeśvarī/Puṇyeśvarī Discovered in the Kiul-Lakhisarai Area,  Bihar', Berliner Indologische Studien (Berlin Indological Studies), Vol. 21,  2013, pp. 299-306.
'Marsh, Rice, Faith: Aspects of Environmental and Religious Changes in the Early Medieval Surma- Barak Valley'. In S. Nag et al (eds), Playing with Nature: History and Politics of Environment in North-eastern India, Manohar Publishers, New Delhi, 2017, pp.20-50.
A Viṣṇu Temple and Its Social Linkages in 11th -12th Century A.D. Comilla, Bangladesh: A Study in Some Copper-Plate Inscriptions'. In D.P. Dubey (ed.), Sanskrit Epigraphy in South Asia (Proceedings of the Epigraphy Section of the 16th World Sanskrit Conference,  Bangkok, 2015 ), forthcoming.