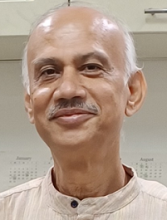 Centre/School/Special Centre
Special Centre for Molecular Medicine
Email
ckm2300@mail.jnu.ac.in
Areas of Interest/Specialization
1. Role of iron in glia and neuron interaction in response to neurotransmitters.
2. Role of iron and glucose in metabolic diseases
3. Role of iron in host-parasite interaction and inflammation
Experience
1994-1997: Postdoctoral Trainee, Postdoctoral Fellow of the American Heart Association of Northeast Ohio, Department of Cell Biology The Lerner Research Institute, Cleveland Clinic Foundation, Cleveland, OH. USA.
1998-2001: Research Associate, Department of Cell Biology, The Lerner Research Institute, Cleveland Clinic Foundation, Cleveland, OH. USA.
2001-2008: Associate Professor, Special Centre for Molecular Medicine, Jawaharlal Nehru University, India.
2008- till date: Professor, Special Centre for Molecular Medicine, Jawaharlal Nehru University
2005- 2007 & 2013-2015: Chairperson, Special Centre for Molecular Medicine, Jawaharlal Nehru University
Awards & Honours
1995: INSA medal for young scientist, Indian National Science Academy
1998: Elsa Albrecht Award, USA
2004: International Senior Research Fellowship, The Wellcome Trust, UK
2010: Member, Guha Research Conference
2013: Fellow, The National Academy of Sciences, India
2016: Visitor's Award
International Collaboration/Consultancy
Prof. Neena Singh, Case Western Reserve University, USA- Iron in neurodegenerative disorders
Best Peer Reviewed Publications
Sen S, Bal SK, Yadav S, Mishra P, Vivek VG, Rastogi R, Mukhopadhyay CK. Intracellular pathogen Leishmania intervenes in iron loading into ferritin by cleaving chaperones in host macrophages as an iron acquisition strategy. J. Biol. Chem. 298:102646, 2022 (Highlighted in ASBMB news)
Aggarwal A, Dinda AK, Mukhopadhyay CK. Effect of cisplatin on renal iron homeostasis components: Implication in nephropathy. ACS Omega, 7(32):27804-27817, 2022
Kumari S, Mukherjee A, Mukhopadhyay CK. Dopamine promotes cathepsin B mediated amyloid precursor protein degradation by reactive oxygen species sensitive mechanism in neuronal cell. Molecular Cellular Biochemistry. 454(1-2):153-163, 2019
Gupta P, Singh P, Pandey HS, Seth P, Mukhopadhyay CK. Phosphoinositide-3-kinase inhibition elevates ferritin level resulting depletion of labile iron pool and blocking of glioma cell proliferation. Biochem Biophys Acta - General Subjects, 1863(3):547-564, 2019
Das NK, Sandhya S, Vishnu Vivek G, Kumar R, Singh AK, Bal SK, Kumari S, Mukhopadhyay CK. Leishmania donovani inhibits ferroportin translation by modulating FBXL5-IRP2 axis for its growth within host macrophages. Cell Microbiol. 20(7):e12834. 2018
Saini S, Bharati K, Shaha C, Mukhopadhyay CK. Zinc depletion promotes apoptosis-like death in drug-sensitive and antimony-resistance Leishmania donovani. Sci Rep. 7(1):10488, 2017
Dev S, Kumari S, Singh N, Bal SK, Seth P, Mukhopadhyay CK. Role of extracellular hydrogen peroxide on regulation of iron homeostasis genes in neuronal cell: Implication in iron accumulation. Free Radical Biol Med. 86:78-89, 2015.
Tapryal N, Vivek VG, Mukhopadhyay CK. Catecholamine stress hormones regulate cellular iron homeostasis by a posttranscriptional mechanism mediated by iron regulatory protein: Implication in energy homeostasis. J. Biol. Chem. 290:7634-7646, 2015
Biswas S, Tapryal N, Mukherjee R, Kumar R, Mukhopadhyay CK. Insulin promotes iron uptake in human hepatic cell by regulating transferrin receptor-1 transcription mediated by hypoxia inducible factor-1. Biochim Biophys Acta. 1832(2):293-301, 2013.
Haldar S, Beveridge AJ, Wong J, Singh A, Galimberti D, Borroni B, Zhu X, Blevins J, Greenlee JJ, Perry G, Mukhopadhyay C, Schmotzer C, Singh N. A low molecular-weight ferroxidase is increased in the CSF of sCJD cases: CSF ferroxidase and transferrin as diagnostic biomarkers for sCJD. Antioxid Redox Signal, 19:1662-75, 2013.
Total Published Research Articles in National/International Journals: 51
Recent Peer Reviewed Journals/Books
Mukhopadhyay CK, Mishra P, Aggarwal A, Yadav S (2022). Hepcidin-induced degradation of iron exporter ferroportin determines anemia of chronic diseases, Ed(s): Jain BP, Goswami SK, Sharma T. Post-Transcriptional Gene Regulation in Human Disease. Academic Press, 32, 329-342
Mukherjee A, Dev S, Ghosh E, Asthana S, Mukhopadhyay CK. (2022). Astroglial Iron Homeostasis and Neurodegenerative Diseases. pp 387-400, In: Patro, I., Seth, P., Patro, N., Tandon, P.N. (eds) The Biology of Glial Cells: Recent Advances. Springer, Singapore. https://doi.org/10.1007/978-981-16-8313-8_14
Mukhopadhyay CK, Yadav S, Kulshreshtha D, Ghosh I. (2021) Role of Iron in Cell Differentiation. In 'Redox Regulation of Differentiation and De-Differentiation. CRC Press, Taylor & Francis Group. Edited by Berndt C and Lillig CH.
Verma A, Das A, Mukhopadhyay CK. (2021) An Introduction to Computational Pipelines for Analyzing Untargeted Metabolomics Data for Leishmaniasis. In: Hameed S., Fatima Z. (eds) Integrated Omics Approaches to Infectious Diseases. Springer, Singapore. https://doi.org/10.1007/978-981-16-0691-5_21