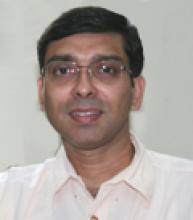 Centre/School/Special Centre:
School of Physical Sciences
Qualifications:
Ph.D.(Physics), Tata Institute of Fundamental Research (TIFR), Mumbai (1993). 

M.Sc. (Physics), University of Poona, Pune (1988)

B.Sc. (Physics Hons.), St. Xavier's College, Calcutta University (1985)
Areas of Interest/Specialization:
String theory, Quantum field theory, Cosmology of the early universe
Experience:
Professor of Physics, SPS, JNU, New Delhi, Jul 2007 onward 

Professor (G), Harish-Chandra Research Institute (HRI), Allahabad, (Feb 2004 - Jun 2007) 

Reader (F), HRI, Allahabad, (Aug 2001 - Aug 2004) 

Fellow, HRI, Allahabad, (Nov 1998 - Jul 2001) 

Postdoctoral Fellow, Ludwigs Maximillian University, Munich, (Nov 1996 - Sep 1998) 

Postdoctoral Fellow, Hebrew University, Jerusalem, (Oct 1995 - Sep 1996) 

Postdoctoral Fellow, HRI, Allahabad, (Oct 1993 - Aug 1995)
Awards & Honours:
JSPS Fellowship for Senior Scientists (2004-05)

Alexander-von-Humboldt Fellowship (1997-1998)
International Collaboration/Consultancy:
Associate Editor, General Relativity & Gravitation (Springer), since Jan 2007

Member, Editorial Board, Pramana: Journal of Physics (Indian Academy of Sciences & Springer), since Jan 2013
Best Peer Reviewed Publications (upto 5):
D. Ghoshal, p-Adic string theories provide lattice discretization to the ordinary string worldsheet, Phys. Rev. Lett. 97 (2006) 151601.

Debajyoti Choudhury, Debashis Ghoshal, Dileep P. Jatkar, Sudhakar Panda, On the cosmological relevance of the tachyon, Phys.Lett. B544 (2002) 231.

Debashis Ghoshal and Ashoke Sen, Tachyon condensation and brane descent relations in p- adic string theory, Nucl.Phys. B584 (2000) 300.

Stefan Foerste, Debashis Ghoshal and Stefan Theisen, Stringy corrections to the Wilson loop in N=4 superYang-Mills theory, JHEP 9908 (1999) 013.

Debashis Ghoshal and Cumrun Vafa, c = 1 String as the topological theory of the conifold, Nucl.Phys. B453 (1995) 121.
Recent Peer Reviewed Journals/Books (upto 3):
Debashis Ghoshal (Ed.), Current Perspectives in High Energy Physics: Lectures from the SERC Schools, Hindustan Book Agency, New Delhi (2005).