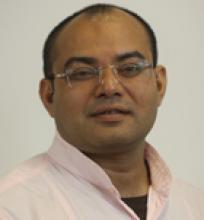 Centre/School/Special Centre:
Centre for English Studies,
School of Language Literature and Culture Studies
Areas of Interest/Specialization:
Indian Aesthetics and Poetics, Indian Philosophy of Language, Indian Intellectual Tradition, Comparative Poetics, Comparative Literature, English Poetry, Modern Irish Literature 
Awards & Honours:
Visiting Professor, University of Bergamo, Italy, October 2014.
International Visiting Fellow, Grinnell College, Grinnell, IOWA, USA, September-October 2015.
Visiting Research Fellow, Trinity Long Room Hub, Arts and Humanities Research Institute, Trinity College Dublin, 2017.
Research Secondment, European Union's Marie Curie International Research Exchange Scheme to the Project "Social Performance, Cultural Trauma and Reestablishing Solid Sovereignties (SPECTRESS), Trinity College Dublin, May-July 2017
International Collaboration/Consultancy:
Assistant Editor (with Kapil Kapoor as Chief Editor and Richard York as Coordinating Editor). Mutual Regards: Indo-Irish Anthology (New Delhi: D.K.Printworld, 2017). 
Best Peer Reviewed Publications (upto 5):
"Bhayanaka (the Horror) in Indian Aesthetics" in Kevin Corstorphine and Laura Kremmel eds., Palgrave Handbook of Literary Horror. (London: Palgrave, 2019)
"On the Comparative Ontology of Shabda (Word) and Rasa (Aesthetic Substance/Experience)" in Parul D. Mukherji and R.N. Misra ed., Rethinking Comparative Aesthetics in a Contemporary Frame. (Shimla: Indian Institute of Advanced Study, 2019)
"Charles Wilkin's Bhagvat-Geeta and the Problems and Politics of Translating the Language(s) of Oriental Gods and Men" in GJV Prasad and Madhu Benoit eds., Violets in a Crucible—Translating the Orient (Delhi: Pencraft India, 2019)
"The Buddha's Karma Yogic Beasts: Philosophy, Fantasy and Narrative in the Jataka-s" in Malashri Lal and Deepa Agarwal eds,. An Anthology of Indian Fantasy Writings. (New Delhi: Sahitya Akademi, 2017).
Nagarjuna: the Mystic Dialectician' in Saitya Brata Das ed. Politics and Religion (Delhi: Aakar Books, 2014).
Recent Peer Reviewed Journals/Books (upto 3):
Book:
Fables in the Indian Narrative Tradition: An Analytical Study. New Delhi: D.K.Printworld, 2011.
Conceptual Origins of Theatre in India. (New Delhi: D.K. Printworld, 2020): forthcoming

Articles in Journals:
"Reality, Temporality and Poetry of Paradox: An Indian Reading of T.S. Eliot's 'Burnt Norton.'" Research and Criticism, Journal of the Department of English, BHU. (2018): 12-23. Print.
"Bhartrhari and the Indian Philosophy of Language." Think India, Vol 12, No. 1 (2009), pp. 31-43. Print.  
"The Fable as Narrative in the Indian Tradition." Creative Forum: Journal of Literary & Critical Writings, Special Issue: Comparative Poetics. Vol. 20, No. 1 (January-June 2007): 53-61.  Print.