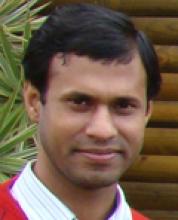 Centre/School/Special Centre:
School of Physical Sciences
Email:
dinabandhu@mail.jnu.ac.in jnu.dinu@gmail.com
Qualifications:
Ph. D in Crystal Engineering and Supramolecular Chemistry (2006, University of Hyderabad, Hyderabad, India)
Areas of Interest/Specialization:
Polymorphism & Co-crystals
Host-guest compounds
Unconventional X-ray and neutron diffraction study
Negative thermal expansion
Experience:
Executive - Analytical Development: Ipca Laboratories Limited, Mumbai (May 2006 to January 2007)
Post Doctoral Fellow: Department of Chemistry, Stellenbosch University, South Africa (March 2007 to June 2010). 
Assistant Professor: Sikkim University, Gangtok, Sikkim (June 2010 to March 2013)
Assistant Professor: Jawaharlal Nehru University, New Delhi (March 2013 till date) 
Best Peer Reviewed Publications (upto 5):
1. Anomalous thermal expansion of an organic crystal—implications for elucidating the mechanism of an enantiotropic phase transformation. Dinabandhu Das, Tia Jacobs, Adam Pietraszko and L. J. Barbour. Chem. Commun., 2011, 47, 6009. 

2. Exceptionally Large Positive and Negative Thermal Expansion of an Organic Crystalline Material Dinabandhu Das, Tia Jacobs and L. J. Barbour, Nature Materials, 2010, 9, 36.

3. Reversible single crystal to single crystal polymorphic phase transformation of an organic crystal Dinabandhu Das, Emile Engel and L. J. Barbour, Chem. Commun., 2010, 46, 1676.

4. Polymorphism of a Hexa-host: Isolation of Four Different Single-Crystal Phases by Melt Crystallization, Dinabandhu Das and L. J. Barbour, J. Am. Chem. Soc., 2008, 130, 14032.

5. Packing modes in some mono- and disubstituted phenylpropiolic acids. Repeated occurrence of the rare syn-anti catemer chain, Dinabandhu Das and Gautam R. Desiraju, Chem. Asian. J., 2006, 1, 231.