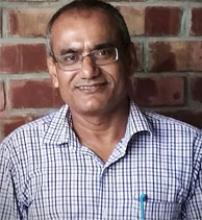 Centre/School/Special Centre:
Centre for the Study of Regional Development,
School of Social Sciences
Email:
dipendas@mail.jnu.ac.in dipendra02@gmail.com
Qualifications:
M.A. (Geography), P.G. Diploma in RS-GIS, Ph.D.
Areas of Interest/Specialization:
Population Studies (Urbanisation and Migration, Issues of Elderly Population, Education) and Remote Sensing and Geographical Information System (RS-GIS) and Its Application in Geographical Studies.
Experience:
1994-2000 in Census of India (Min. of Home Affaires) and Teaching in College and Universities Since 2000.
Best Peer Reviewed Publications (upto 5):
* Magnetism In India's Metros: A Study On Migrants' Choice Of Destination, Social Change, Vol. 44, No. 4, December 2014, PP. 519-40, ISSN 0049-0857/Online ISSN 0976-3538. (jointly with Sweta Bhusan)
* Academic Performance Indicators : Straitjacketing Higher Education, Economic & Political Weekly, December 13, 2014 vol xlix no 50, PP. 68-71, ISSN 0012-9976 (jointly with Saumen Chattopadhyay)
* Change in mangrove forest cover and deltaic islands in Sundarban areas of West Bengal : A temporal analyses using NIC technique on LANDSAT TM5 data in J. Sundaresan et al. (Ed. Book), Climate Change and Environment, Scientific Publishers (India), 2013, PP 113-127, ISBN: 978-81-7233-833-6 (jointly with A. Mondal and S. Guha)
* Eradication of Child Labour in India : The National Child Labour Project, Published in Shakti Kak and Biswamoy Pati (Ed. Book), Enslaved Innocence – Child Labour in South Asia, Primus Books, Delhi, 2012, PP. 291-305, ISBN 978-93-80607-6. (Jointly with B. Das)
* Examination of Trend and Pattern of Landuse/Landcover Change in Kolkata Urban Agglomeration : Using Geoinformatic Techniques, Geographical Review of India, Vol.72 No.4 (December), 2010. PP.357-371, ISSN 0375-6386 (jointly with A. Mondal and S. Kundu)
Recent Peer Reviewed Journals/Books (upto 3):
Book
* Population of India 2011, B. R. Publishing Corporation, New Delhi, 2012, ISBN 13:9789350500279 (jointly with Prof. M.K. Premi) Articles in Peer Reviewed Journals 2015-16
* Academic Performance Indicators (API): Can It Raise the Standard of Indian Higher Education, College Post the higher eduction journal Vol 16, No 2 (April-June), 2016, pp. 19-26, ISSN 2348-084X (jointly with Saumen Chattopadhy)
* Integrating Cellular Automata And Markov Techniques To Generate Urban Development Potential Surface: A Study On Kolkata Agglomeration, Geocarto International, Taylor & Francis, DOI:10.1080/10106049.2016.1155656, February 2016, ISSN: 1010-6049 (Print) 1752-0762 (Online) (Jointly with Biswajit Mondal & Basudeb Bhatta)