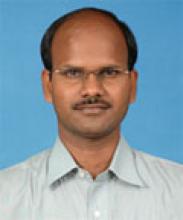 Centre/School/Special Centre:
Centre for the Study of Regional Development,
School of Social Sciences
Email:
elumalaik@mail.jnu.ac.in , elumalaik@hotmail.com
Areas of Interest/Specialization:
Agricultural Economics, Institutional Economics, Non-farm Sector and Applied Econometrics
Experience:
12 years of teaching and research experience
Awards & Honours:
Visiting Scholar, University of Saskatchewan, Canada under Shastri Research Grant of Shastri Indo- Canadian Institute, Canada, March 2015
Doctoral Research Fellowship of Indian Council of Social Science Research, Institute of Economic Growth, Delhi, 2002-2005
Junior Research Fellowship, Indian Council of Agricultural Research, 1999-2001
International Collaboration/Consultancy:
Consultant to FAO
Research collaboration with ICRISAT and IRRI
Best Peer Reviewed Publications (upto 5):
Trends in Agricultural Incomes: An Analysis at Select Crops and States Level in India, Journal of Agrarian Change, 15(2): 209-19, 2015.

Do Farmers Need Free Electricity? Implications for Groundwater Use in South India, Journal of Social and Economic Development, 15(2): 16-28, 2013.

Does Decentralization Improve Agricultural Services Delivery? Evidence from Karnataka, Agricultural Economics Research Review, 26(2): 199-208, 2013.

Trends in India's Agricultural Growth and its Determinants, Asian Journal of Agriculture and Development, 8(2): 79-99, 2012.

Price Discovery in India's Agricultural Commodity Futures Markets, Indian Journal of Agricultural Economics, 64(3): 315-323, 2009 (with N Rangasamy and R K Sharma). 
Recent Peer Reviewed Journals/Books (upto 3):
Farm Credit Package and Changing Pattern of Agricultural Credit in India, in K Gayithri and K V Raju (ed.), State, Governance and Financing Indi?s Development, Foundation Books-Cambridge University Press, New Delhi, pp. 38-53, 2016.

Economic Growth, Trade and Poverty: A Comparative Analysis of India and China, Edited, Konark Publishers Pvt. Ltd, New Delhi, 2015 (with R S Deshpande, Guao Xiaoming and Yue Zhaomin)

Development Trends in Urban and Peri-urban Agriculture, Edited, Westville Publishing House, New Delhi, 2015 (with R S Deshpande, Prem Nath, P G Chengappa, K R M Swamy and C