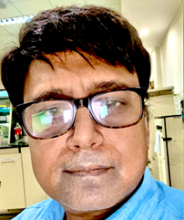 Centre/School/Special Centre
Special Centre for Molecular Medicine
Qualifications
Postdoctoral Training (Immunology): The Cleveland Clinic Ohio, USA
Doctoral (Biotechnoloy): Jadavpur University Kolkata, India
Masters' (Microbiology): M.S. University Baroda, India
Areas of Interest/Specialization
We work on early host-microbe interactions, that ultimately define the predisposition and/or outcomes of diseases. The human epithelial surface is continuously exposed to microbes. This epithelium presents the first line of defence against external threats. This defence is not physical barrier alone; but extremely complex array of receptors, signalling cascades and effectors that are key to innate immunity. We are interested to understand how epithelial and innate immune cells interact with themselves and bacteria to exert this innate immunity. For this we study nutrition, microbiota and biofilms with specific emphasis on Quorum signalling and the cross talk with innate immune determinants. These studies help to contribute to the understanding of lethal multiple drug resistant nosocomial infections and sepsis, especially neonatal sepsis which kills thousands of babies in early life. We are currently part of the National Neonatal Sepsis Research Consortium (DBT), one of the largest research programs in India in collaboration with AIIMS, TSHTI, IGIB, NII and ICGEB.
Experience
2008 - present ; Assistant Professor, Special Centre for Molecular Medicine, Jawaharlal Nehru University, New Delhi, India
2009-2012 - Faculty-In-Charge, Mass Spectrometry Laboratory, Advanced Instrumentation Facility, Jawaharlal Nehru University, New Delhi, India
2003-2008 (Feb.) - Faculty Scientist, Indian Institute of Technology, Kharagpur, India
1997-2002 - Postdoctoral Fellow, Department of Immunology & Department of Gastroenterology, The Cleveland Clinic Foundation, USA.
Awards & Honours
Merlin Bumpus Best Investigator Award, USA, 2001.
International Collaboration/Consultancy
Prof. Sanjoy K. Bhattacharya, Bascom Palmer Eye Institute, Florida, U.S.A (Lipidomics).
National Collaborations:
The Indian Neonatal Sepsis Consortium (AIIMS-Del, NII, ICGEB, TSHTI, IGIB & IIIT).
Prof. Rakesh Lodha, Department of Pediatrics, All India Institute of Medical Sciences, New Delhi (Hospital Associated Infections).
Dr. Venkat Panchagnula, National Chemical Laboratory, Pune (Laser Desorption Ionization Mass Spectrometry).

Best Peer Reviewed Publications
Recent Peer Reviewed Journals/Books
Patents (if any)
1. Selective Detection and Analysis of Small Molecules Ghosh D., Dharware D. and Panchagnula V. Jawaharlal Nehru University, New Delhi and Central Scientific and Industrial Research (CSIR), New Delhi. (Ind) 407/DEL/2011; (EPO) EP2676287A2 ; (USPTO) 20130323849A1. Technology Ready for Transfer.