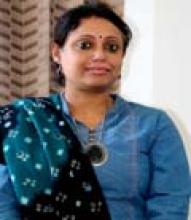 Centre/School/Special Centre:
Centre for the Study of Regional Development,
School of Social Sciences
Email:
iroychowdhury@mail.jnu.ac.in , indranirc1@gmail.com
Qualifications:
MPhil (Economics) Jadavpur University, Ph.D.(Economics) Centre for International Trade and Development (CITD), SIS, JNU
Areas of Interest/Specialization:
Industrial Organization 
Environmental Economics
Health Economics
Applied Game Theory & Quantitative Methods
Experience:
Associate Professor, Department of Economics, Jamia Millia Islamia
Assistant Professor, Department of Economics, Jamia Millia Islamia
Economist, National Institute of Public Finance & Policy (NIPFP)
Associate Fellow, Council for Social Development, New Delhi
Best Peer Reviewed Publications (upto 5):
Health Damages from Air Pollution: Evidence from Open Cast Coal Mining Region of Odisha, India, (with T Nayak) in the Ecology, Economy and Society Volume 1, Issue 1, January 2018, Indian Society for Ecological Economics, ISSN: XYZA: BCDE.
Holdout and Eminent Domain in Land Acquisition, (with PR Chaudhuri), in the special issue of Game Theory and its policy implications, Indian Economic Review, Vol 51, (1-2), 2016, Springer, ISSN 0019-4670.
Environmental Policy & Market Structure: A Case of Two Asymmetric Firms, in the Special Issue of the International Game Theory Review, Vol. 17 (2), March, 2015, World Scientific. http://www.worldscientific.com/doi/pdf/10.1142/S0219198915400198

Environmental Regulation, Green R&D and the Porter Hypothesis, (with S K Das). Volume 4, November 2, 2011. Indian Growth and Development Review, (Emerald Publisher, UK), ISSN 1753-8254.

Incentives for Green R&D in a Dirty Industry under Price Competition, Economics Bulletin, Vol. 29, (3), 2009, Vanderbilt University, USA. 

Joint Ventures, Pollution and Environmental Policy, Bulletin of Economic Research, 60, January, 2008, 97-121, Blackwell Publisher, USA, UK, ISSN 03073378, ISSN (Online) 14678586. 

 
Recent Peer Reviewed Journals/Books (upto 3):
1. Public-Private Partnerships and Governance, (with P Roy Chowdhury), in the Understanding Development India Studies in Business and Economics, by S. Banerjee et al. (eds.), Chapter 9, ( Springer India February 2016 ) ISBN 978-81-322-2454-9.

2. Persistence of Jhum Cultivation: Social Capital and Labour Market, in Nature Economy & Society: Understanding the Linkages, by Nilanjan Ghosh, Pranab Mukhopadhyay et al., (eds.), Chapter 17, pp 356 -372 , Springer Publication, 2016, ISBN 978-81-322-2403-7, ISBN 978-81-322-2404-4 (eBook). 

3. Understanding the Grameen Miracle: Information and Organizational Innovation, Economic Political Weekly (EPW), ISSN 0012-9976, Vol. 06, February 06, 2010.