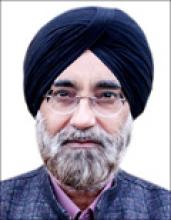 Centre/School/Special Centre:
Centre for the Study of Social Systems,
School of Social Sciences
Email:
jodhka@mail.jnu.ac.in ssjodhka@yahoo.com
Areas of Interest/Specialization:
1. Social Stratification; 
2. Development Studies: Rural and Agrarian Change 
3. Social Identities: Caste Studies; Religious Minorities 
Experience:
1. Professor, School of Social Sciences, JNU, New Delhi (2006-)
2. Associate Professor, School of Social Sciences, JNU, New Delhi (2001-2006)
3. Reader, Department of Sociology, Panjab University, Chandigarh (1998-2001)
4. Lecturer, Department of Sociology, University of Hyderabad, Hyderabad (1991-1998) 
5. Associate Fellow, Centre for Social Studies, Surat (1990-1991) 
Awards & Honours:
ICSSR-Amartya Sen Award for Distinguished Social Scientist (Sociology) 2012.
Visiting Professor (ICCR Chair), University of Lund, Sweden. October 2012-June 2013.
Visiting Associate Professor, University of Bergen, Norway. May-June 2005.
Honorary Visiting Fellow, University of Wisconsin, Madison: January-June 2002.
South Asian Visiting Scholar, University of Oxford: January- June 1997.
Charles Wallace India Trust Fellow: Queen's University of Belfast, United Kingdom April-June 1996. 
International Collaboration/Consultancy:
Country Coordinator, Religions and Development Research Programme (DFID- University of Birmingham) 2006-2011. Member, 'The Global Network on Inequality', Princeton University, Princeton, USA.
Best Peer Reviewed Publications (upto 5):
Agrarian Changes in the Times of (Neo-liberal) 'Crises': Revisiting Attached Labour in Haryana Agriculture'. Economic and Political Weekly. Vol - XLVII No. 26-27, June 30, 2012. Pp. 5-13.

'Caste and Politics' in Nirja Jayal and Pratap Bhanu Mehta ed. Oxford Companion to Politics in India Delhi: Oxford University Press. 2010 

'Dalits in Business: Self-Employed Scheduled Castes in North-West India' Economic and Political Weekly. Volume 45 (11) pp. 41-48 March 13-19, 2010 

Agrarian Structures and their Transformations' in Veena Das ed. Oxford India Companion to Sociology and Social Anthropology. (Volume II) Delhi: New Delhi: Oxford University Press 2003.

'From 'Book-View' to 'Field-View': Social Anthropological: Constructions of the Indian Village', Oxford Development Studies, Vol. 26 (3). Pp. 311-32. 1998. 
Recent Peer Reviewed Journals/Books (upto 3):
Interrogating India's Modernity: Democracy Identity and Citizenship. New Delhi: Oxford University Press (edited) 2013.

Caste. Oxford India Short Introductions. New Delhi: Oxford University Press. 2012

Village Society: Culture, Politics and Social Life in Rural India. Hyderabad: Orient Blackswan. Edited. 2012