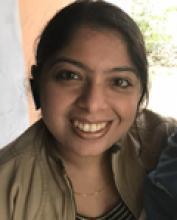 Centre/School/Special Centre
Advanced Instrumentation Research Facility
Room No
14, AIRF Building, JNU
Off. Phone
91 11 26738837 (T/F); 91 11 2670 4560, Extn: 231
Residence
91 11 2674 2809, Ext 101
Email
kavitaarora@mail.jnu.ac.in; kavitaarora@jnu.ac.in
Qualifications
Education:
2003 – 2007: PhD on "Studies on Application of Conducting Polymers to Genosensors", Department of Biochemical Engineering and Biotechnology Indian Institute of Technology Delhi, India and National Physical Laboratory, New Delhi, India.
2000 – 2002: Masters of Science – Biotechnology, Department of Biotechnology, Himachal Pradesh University, Shimla, India.
1999 – 2000: Post Graduate Diploma in Biochemical Technology from Sri Venkateswara College, Delhi University, New Delhi, India
1996 –1999: Bachelor of Applied Science – Instrumentation (Hons.) from Bhaskaracharya College of Applied Sciences, Delhi University, New Delhi, India
Internships:
Jan 2002 – Feb 2002: On the project "Isolation and Cloning of Pea lectin cDNA into pBluescript vector" from NRC Plant Biotechnology, IARI, PUSA, New Delhi, India.
May 1999 – June 1999: On the project "Routine Drug Analysis using High Performance Liquid Chromatography (HPLC)" from, RANBAXY, Gurgaon, India.
May 1998 – June1998: On the project "Data Communication and Internet" from Videsh Sanchar Nigam Limited, New Delhi, India.
Areas of Interest/Specialization
To use interdisciplinary skills to develop biosensors and nano-based bio-molecular methods for early, low cost and Smart Point-of-care Healthcare Devices. Her specialization is in: Biosensors and Nano-based Bio-Molecular Method Development for Health Care Diagnosis and Environmental monitoring: Identifying novel biomarkers and development/ fabrication of cost effective, highly sensitive and nano-bio-molecular methods for early detection of biological parameters of clinical/food/environmental significance [stress, cognitive decline, depression, cancer (oral, lung, head and neck), infectious pathogens and pesticides.
Experience
2008- till date: Assistant Professor (AIRF and SCIS), JNU, New Delhi, India
Jan-Aug 2008: Research Associate (RA, DBT & CSIR) in Biomolecular Electronics and Conducting Polymer Research Group, National Physical Laboratory, New Delhi, India
2006: Guest Lecturer for M. Tech Nanotechnology, Institute of Nanotechnology, AMITY University, NOIDA, Uttar Pradesh, India
2003-2008: CSIR -NET- JRF and SRF at National Physical Laboratory, New Delhi, India.
Awards & Honours
Best Poster Presentation Award-2016: Young Scientists Conclave in 2nd India International Science Festival held at National Physical Laboratory jointly organized by the Ministry of Science and Technology and Ministry of Earth Sciences, India.
Poster Award (Second Position)-2015: 3rd International Conference on Nano-structured Materials and Nanocomposites (ICNM – 2015) held at Hindustan College of Science and Technology Agra-Delhi, Farah, Mathura, U P, India.
Innovative Young Biotechnologist Award (IYBA-2008): With major project funding for development of early diagnosis of typhoid from Department of Biotechnology by Honorable Minster of Science and Technology, Sh. Jaipal Reddy, Govt. of India, New Delhi, India, 2013.
GC Jain Memorial Best PhD thesis Award 2009: Material Research Society of India (MRSI) at 20th Annual General Meeting held at Saha Institute of Nuclear Physics (SINP), Kolkata, India.
Distinguished alumni award-2009: Annual Day of Bhaskaracharya College of Applied Sciences, Delhi University by Minister of Labour and Employment, Sh. Oscar Fernandez at Dwarka, New Delhi, India.
A research highlight on "Faster test for tuberculosis" published in Chemical Technology from across RCS publications, Volume 9, 5th August 2008.
A research highlight on "DNA sniffs pesticides" published in Nature India, published online 29th May 2008 (DOI: 10.1038/nindia.2008.213).
First in Oral presentation-2007: 3rd ISEAC Triennial conference on Electroanalytical Chemistry and Allied Topics (ELAC-2007) at Kufri, Shimla, Himachal Pradesh, India.
Best poster award 2007: Science Day, National Physical Laboratory, New Delhi, India.
Young Scientist Award-2006: 2nd International Conference on Electro active polymers: Materials and Devices (ICEP-2007), at Goa, India.
Best poster award-2006: XVI conference on Biomaterials tissue engineering and diagnosis organized by Society for Biomedical and Artificial Organs-India at Centre of Biomedical Engineering, IIT Delhi.
Gold medal for best poster of the conference-2005: Biotech-2005-Concept to commercialization held in Manesar, Gurgaon (organized by Centre for Biotechnology, JNU, New Delhi, India.
Certified Reviewer of Journals:
Analytica Chimica Acta-Elsevier's
Biosensors and Bioelectronics-Elsevier's
Journal of Physical Chemistry - America Chemical Society
The Open Nanomedicine Journal-Bentham Science Publishers
Sensors-IEEE
Nanoscale- Royal Society of Chemistry
International Collaboration/Consultancy
Prof. Jaime E. Ramírez-Vick, Engineering Science and Materials Department, University of Puerto Rico, Mayagüez, PR.
Best Peer Reviewed Publications
Twenty-eight (29) publications as on Jan 2018:
Anti-IL8/AuNPs-rGO/ITO as an Immunosensing Platform for Noninvasive Electrochemical Detection of Oral Cancer, Shilpi Verma, Anu Singh, Ajay Shukla, Jyoti Kaswan, Kavita Arora, Jaime Ramirez-Vick, Priti Singh, S. P. Singh. ACS Applied Materials & Interfaces 9 (2017) 27462–27474 (IF- 7.145).
CD 59 targeted ultrasensitive electrochemical immunosensor for fast and noninvasive diagnosis of oral cancer, Meenakshi Choudhary, Prashant Yadav, Anu Singh, Satbir Kaur, Jaime Ramirez-Vick, Pranjal Chandra, Kavita Arora, S. P. Singh, Electroanalysis 28 (2016) 2565–2574 (IF- 2.851, Citations 4).
DNA Functionalized Direct Electro-deposited Gold nanoaggregates for Efficient Detection of Salmonella typhi, Anu Singh, Meenakshi Chaudhary, M. P. Singh, H. N. Verma, S. P. Singh, Kavita Arora, Bioelectrochemistry, 105 (2015) 7-15 (IF- 3.903, Citations 9).
Graphene oxide-Chitosan Nanocomposite based Electrochemical DNA Biosensor for Detection of Typhoid. Anu Singh, Gaurav Sinsinbar, Meenakshi Choudhary, Veeresh Kumar, Renu Pasricha, Surinder P. Singh, H. N. Verma, Kavita Arora, Sensors & Actuators: B, 185 (2013) 675-684. (IF- 4.758, Citations 58).
Escherichia coli genosensor based on polyaniline by Kavita Arora, Nirmal Prabhakar, Subhash Chand and BD Malhotra, Analytical Chemistry, 79 (2007) 6152-6158; Err. 80 (2008) 1833 (IF- 5.886, Citations 69).
Application of electrochemically prepared polypyrrole polyvinyl films to DNA biosensor. Kavita Arora, AshaChaubey, Rahul Sighal, Ravindra P. Singh, M K Pandey, Subhash Chand and B D Malhotra. Biosensors & Bioelectronics, 21 (2006) 1777-1783 (IF- 7.47, Citations 66).
Recent Peer Reviewed Journals/Books
Three (3) book chapters as on Jan 2018:
Chapter 1: Advances in Nano Based Biosensors for Food and Agriculture. Kavita Arora (2018, 1-52 pp) In: Gothandam K., Ranjan S., Dasgupta N., Ramalingam C., Lichtfouse E. (eds) Nanotechnology, Food Security and Water Treatment. Environmental Chemistry for a Sustainable World. Springer, Cham. ISBN: 978-3-319-70166-0.
Chapter 13: Molecular Techniques by Anu Singh, Manoj P. Singh, V. Sharma, H. N. Verma, Kavita Arora (2012, 407-461), in Edited book on Chemical Analysis of Food: Techniques & Applications, Elsevier Publishing, http://www.elsevier.com/wps/find/bookdescription.Cws_home/726991/description#description, 2011. ISBN: 978-0-12-384862-8.
Chapter 17, Application of conducting polymer based nucleic acid biosensors. Kavita Arora and BD Malhotra (2008: 473-498), in 'A book on Applied Physics in the 21st Century, ISBN: 978-81-308-0238-1, Research Signpost, 37/661 (2), Fort P.O., Trivandrum-695 023, Kerala, India