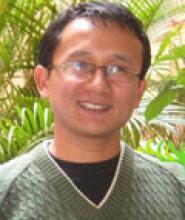 Centre/School/Special Centre:
School of Social Sciences
Email:
khangembam@mail.jnu.ac.in ; kh.romesh@gmail.com
Qualifications:
M.A., Ph.D. in Philosophy 
Areas of Interest/Specialization:
Ethics, Applied Ethics, Environmental Ethics
Philosophy of Voting 
Experience:
Earlier worked at Åbo Akademi University, Finland
M. S. University of Baroda, Vadodara, and IIT Bombay, Mumbai
Awards & Honours:
Prof. K. T. M. Hegde Memorial Gold Medal for securing highest mark in MA Philosophy
Prof. A. G. Javadekar Felicitation Prize for securing highest mark in MA Philosophy
The 12th Session Akhil Bhartiya Darshana Parishad Prize in Philosophy  for securing highest mark in MA Philosophy
Jain Academy Research Scholarship (MS University of Baroda)
Junior Research Fellow
NRTT Short-Term Post-Doctoral Fellowship, Centre for Studies in Social Sciences, Calcutta (CSSSC), India
Sitra Fellowship (CIMO, Finland) for visiting Postdoctoral Research Programme at Department of Philosophy, Åbo Akademi University, Turku, Finland
Library and Writing Fellowship at Centre for Contemporary Studies, IISc Bangalore
ICPR General Fellowship
Institute Postdoctoral Fellowship, IIT Bombay
International Collaboration/Consultancy:
Visiting Researcher at Åbo Akademi University, Finland
IIT Bombay, Mumbai
Free University of Berlin, Germany
Best Peer Reviewed Publications (upto 5):
"Intrinsic Value: A Philosophically Challenging Inquiry in Environmental Ethics". Journal of Indian Council of Philosophical Research 26 (3):89-108
"Moral Elements in the Ethical Code of Buddhism". Public Philosophy and Democratic Education 3 (2):18-35
"Exploring the Concept of Non-violence as a Moral Virtue in Buddhism". Jadavpur Journal of Philosophy  25 (1):95-122.
"On Question of Environmental Ethics: A Buddhist Contemplation". In L. Udayakumar (ed), Buddhist Applied Philosophy, vol 1, 199-214. New Delhi: Prestige Books International.
"Theory of Karma: Foundation of Morality in Buddhism". In Chenna Reddy (ed), Bodhisiri, 46-54. New Delhi: Research India Press
Recent Peer Reviewed Journals/Books (upto 3):
"Intrinsic Value: A Philosophically Challenging Inquiry in Environmental Ethics". Journal of Indian Council of Philosophical Research 26 (3):89-108
"Moral Elements in the Ethical Code of Buddhism". Public Philosophy and Democratic Education 3 (2):18-35
"Ecofeminism: Women and Nature". International Journal of Humanities and Religion 1 (1): 9-19