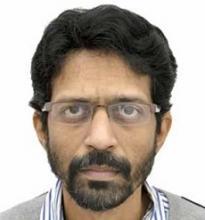 Assistant Professor (UGC)
Centre/School/Special Centre
School of Engineering
Email
krishnan@mail.jnu.ac.in
Qualifications
Ph.D (2013), Institute of Mathematical Sciences, Chennai (Homi Bhabha National Institute)
M.Sc.(Integrated) Mathematics (1998), Indian Institute of Technology, Kanpur
Areas of Interest/Specialization
Number Theory (Analytic and Transcendental), Special functions, Applied Statistics, Data Science
Experience
2017- till date: UGC-Assistant Professor, Jawaharlal Nehru University, New Delhi
2013- 2017: Assistant Professor, Shiv Nadar Universtiy, Greater Noida
1999-2008: Technical Specialist/Project Manager, Infosys Technologies Ltd., Bangalore
Awards & Honours
UGC-Faculty Recharge Programme, 2017
CSIR-UGC NET, Eligibility for Lectureship, 2015
NBHM Postdoctoral Fellowship (not availed), 2013
Junior and Senior Research Fellowship, I.M.Sc. Chennai, 2006-2012
NBHM Nurture programme at Tata Institute of Fundamental Research, Mumbai,1994-1995
NBHM undergraduate and postgraduate scholarship, 1993-1998
Indian National Mathematics Olympiad, 1991; IMO training camp, 1992-1993
National Talent Search Examination scholarship, NCERT, 1990
International Collaboration/Consultancy
International Collaboration/Consultancy
Best Peer Reviewed Publications
Krishnan Rajkumar, Arikatla Satyanarayana Reddy and Devendra Prasad Semwal, Fixed divisor of a multivariate polynomial and generalized factorials in several variables, Journal of the Korean Mathematical Society, 55(6), 1305–1320, 2018.
R. Sarma, S. Kushwaha and R. Krishnan, Continued fractions arising from F1,2, Journal of Number Theory, 154, 179–200, 2015.
Krishnan Rajkumar, A simplification of Apéry's proof of the irrationality of ζ(3), Legacy of Srinivasa Ramanujan, University of Delhi, New Delhi, 2012
Debashish Bose, C.P. Anil Kumar, R. Krishnan and Shobha Madan, On Fuglede's conjecture for three intervals, Online Journal of Analytic Combinatorics, No. 5, 24 pp, 2010.
Anirban Mukhopadhyay, Kotyada Srinivas and Krishnan Rajkumar, On the zeros of functions in the Selberg class, Functiones et Approximatio Commentarii Mathematici, 38(2), 121–130, 2008.
Recent Peer Reviewed Journals/Books
Mohammad Ahmad Ansari, Poonam Agarwal and Krishnan Rajkumar, Artificial neural network (ANN) to design microstrip transmission line, Proceedings of International Conference on Artificial Intelligence and Applications, Advances in Intelligent Systems and Computing, vol 1164. Springer, Singapore, 2020.
Devendra Prasad, Krishnan Rajkumar and A. Satyanarayana Reddy, A survey on fixed divisors. Confluentes Mathematici, 11(1), 29–52, 2019.
Rahul Majethia and Krishnan Rajkumar, Mining channel state information from Bluetooth low energy RSSI for robust object-to-object ranging, IOT'18: Proc. of the 8th international conference on the Internet of Things, U.C. Santa Barbara, California, No. 23, ACM, 2018.