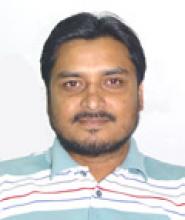 Centre/School/Special Centre:
Centre of Arabic and African studies,
School of Language Literature and Culture Studies
Qualifications:
* Ph.D in Arabic, from JNU, 2004
* Title of the Ph.D Thesis: A Comparative Study of Social Themes in Arabic and Urdu Novels (1900-1950)
* M. Phil in Arabic from JNU, 1998
* M. A. in Arabic from JNU, 1995
* M.A. in Modern History from JMI, New Delhi, 1993
* B. A. History (H) from JMI, 1991
* Almiat from Darul Uloom Nadwatul Ulama, Lucknow, 1988
* Advance Diploma in Modern Arabic from JMI, 1991 
Areas of Interest/Specialization:
* Modern Arabic Prose, Novels and Dramas
* Translation and Interpretation
Experience:
* Lecturer in the Department of Arabic, Assam University, Silchar, Assam from 16 April 1997 to 04 December 2001
* Assistant Professor in the Center of Arabic and African Studies, SLL&CS, JNU from 5/12/2001 to 20/07/2006
* Associate Professor in the same center from 21/07/2006 to present date 
Awards & Honours:
Awarded the Presidential Award of MAHARSHI BADRAYAN VYAS SAMMAN by the Honourable President of India for substantial contribution to Arabic for the year 2011. The Award was conferred by the Honourable President on 19th of June, 2012 at Rashtrapati Bhavan. 
Best Peer Reviewed Publications (upto 5):
1. "Contemporary Arabic Journalism: Influences of English Stylistics" (in Arabic Language), published by Mr. Jamshed Ahmad, Delhi, 2004
2. "Communication Skills: Listening and Speaking -1]" One Block (comprising 100 pages) [BAL-002- of the Certificate of Arabic language program of IGNOU, New Delhi, published in October, 2010. ISBN: 978-81-266-4898-6
3. "Fikratul Hind" (Translated) an Arabic translation of Sunil Khilnani's book "The idea of India" published by KALIMA' ( Abu Dhabi) in 2009 for Abu Dhabi Authority for Culture and Heritage and India Arab Cultural Centre, JMI, New Delhi.
4. "Mawatin al hadatha" (Translated) an Arabic Translation of Dipesh Chakrabarty's book "Habitations of Modernity" published by 'KALIMA' ( Abu Dhabi) in 2011 for Abu Dhabi Authority for Culture and Heritage and India Arab Cultural Centre, JMI, New Delhi.
5. Translated into Arabic parts of Dubai based Geeta Chhabra's anthology of English poems and published in January, 2012.  
Recent Peer Reviewed Journals/Books (upto 3):
Following articles translated from Arabic to English have been published in the 30th Anniversary Special issue of Khaleej Times, Dubai, UAE, on 30th April 2008.
(1) "Of love and relationships" written by Al Alia Maalainain, Page 232-233
(2) "Black Box" written by Mohammed Fahey, Page 231.
(3) "Poetry of Revolution" "Poems by Arab Palestinian Poet Mahmoud Darwish", writer not mentioned, Page, 254.