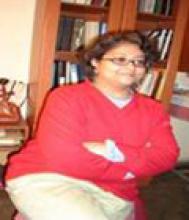 Centre/School/Special Centre:
School of Social Sciences
Email:
manidipa@mail.jnu.ac.in , manidipase@gmail.com
Qualifications:
M.A. and M.Phil. (Jadavpur University, Kolkata), Ph.D. (University of St. Andrews, Scotland, UK)
Areas of Interest/Specialization:
Philosophy of Language; Philosophy of Mind; Philosophy of Logic; Epistemology; Problem of Self-knowledge  
Experience:
16 years of teaching experience (held faculty positions in Biddhannagar College, Kolkata, Lady Shri Ram College, New Delhi, and Miranda House, New Delhi)
Awards & Honours:
2011: Visiting Fellow, Centre for Subjectivity Research, University of Copenhagen, Denmark. Research Topic: Layers of Self-consciousness
2007-8: Post-doctoral Research Fellowship of the Endeavour Research Fellowship Programme of the Australian Goverment to pursue research at Monash University, Melbourne, and Australian National University, Canberra, from August 2007, to January 2008. Research Topic: Our Knowledge of and Reference to the First Person
2003: Visiting fellowship under the Indo-French Cultural Exchange Programme of the University Grants' Commission and Maison des Sciences de 'Homme, Paris, Research Topic: Externalism, Phenomenology and Philosophy of Mind
1996-7: Fellow in Residence at the Indian Institute of Advanced Study, Shimla. Research Topic: Externalism/Internalism Debate in the Philosophy of Mind
1992-95: Commonwealth Scholarship to pursue Ph.D. in Philosophy in the U.K. Research Topic: Propositional Attitudes and their Attribution 
Best Peer Reviewed Publications (upto 5):
* "Understanding Intersubjectivity" in Sandhan, vol.IX, no. 2, July-December, 2009 (appeared in 2012).
* "Self-knowledge and the Subject/object Dichotomy", in Indian Journal of Analytic Philosophy, Vol. IV, No. 1, September 2010.
* "Strawson on the Notion of the First Person", in Organon F 16, no.4, 2009, pp. 4777-92.
* "Knowing Our Own Minds: Ascriptions versus Expressions", in Journal of Indian Council of Philosophical Research (JICPR), vol. XXI, no.1, 2004, pp.49-70.
* "De Re Thoughts: Issues in the Relationship between Thought and Reality" in Journal of Indian Council of Philosophical Research (JICPR), vol. XVIII, no.2, 2001, pp.21-52. 
Recent Peer Reviewed Journals/Books (upto 3):
Books:
* Self-Knowledge and Agency, edited by Manidipa Sen, Decent Books, New Delhi, 2012.
* Thinking about the world: An essay in de re thoughts and the externalist / internalist debate, Indian Institute of Advanced Study, Shimla, 2008.
* Knowledge, Truth and Reality: Essays in Philosophical Analysis, collection of articles by Pranab Kumar Sen, edited by Manidipa Sen, Madhucchanda Sen, Nirmalya N. Chakraborty, ICPR, New Delhi, 2006