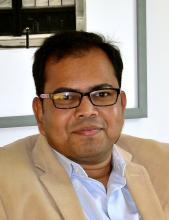 Centre/School/Special Centre:
Centre for the Study of Social Systems,
School of Social Sciences
Email:
manojkjena@mail.jnu.ac.in, drmanojkjena@gmail.com
Qualifications:
M.A. in Sociology,  M.Phil. in Sociology & Ph.D. in Sociology, Jawaharlal Nehru University, New Delhi.
Areas of Interest/Specialization:
Sociology of Science & Technology, Information Communication Technology Studies, Media Studies, Labour Studies, Contemporary Social Theory, Inequality and Marginal Studies.
Experience:
11 Years
Associate Professor, CSSS, SSS, Jawaharlal Nehru University, New Delhi(2017-)
Assistant Professor, Department of Sociology, Jamia Millia Islamia, New Delhi(2006-2017)
International Collaboration/Consultancy:
International Collaboration/Consultancy
Best Peer Reviewed Publications (upto 5):
Best Peer Reviewed Publications (upto 5)