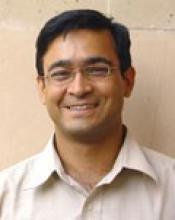 Centre/School/Special Centre:
Centre for International Politics, Organization and Disarmament,
School of International Studies
Qualifications:
Ph.D.: (2012) Jawaharlal Nehru University 
Topic: British Geostrategic Perspectives in the Southern Atlantic Region
M.Phil.: (2001) Jawaharlal Nehru University
Topic: Border Management Problems in South America: A Case Study of Argentina and Chile 
M.A. (1999), Geography, JNU
B.A. (1997), Geography Honours, Kirori Mal College, Delhi University 
Areas of Interest/Specialization:
Geopolitics, Critical Geopolitics, BRICS, Borders
Experience:
10 years of teaching and research experience
Oct, 2004 to present-Assistant Professor, CIPOD/SIS
Jan, 2003 to Oct, 2004-Lecturer, Department of Higher Education, Rajasthan
Teaches courses on Political Geography and Geopolitics (for 
M.Phil
 and 
M.A.
) and has designed a course titled "
Concepts and Issues in Geopolitic
". 
Awards & Honours:
UGC Junior Research Fellowship – October 1999
UGC National Eligibility Test (NET)-October 1999 in Urban and Regional Planning 
International Collaboration/Consultancy:
* Attended the Advanced Training Programme Managing Global Governance at the German Development Institute, Bonn from 4th January 2009 to 4th July 2009
* Attended the International Futures 4: International Training for Diplomats, Federal Foreign Office, Berlin, Germany from 8th to 20th March, 2009
* Practice phase for project study at German Institute for Global and Area Studies, Institute for Latin American Studies, Hamburg, 18th April to 18th June, 2009
* Appointed as an Advisor to the Oikos International, a student organization working for Sustainable Development and Management in 2010 for 2 years
* Attended the Annual Presidents and Advisors Retreat of the Oikos International at Filzbach, Switzerland from 2nd September, 2010 to 4th September, 2010
* Visiting Fellowship, BRICS Policy Centre, Institute of International Relations, The Pontifical Catholic University of Rio de Janeiro, 20th November, 2012 to 22nd December, 2012 
* Attended the 4th International Summer School of the Global COE Program "Reshaping Japan's Border Studies", Slavic Research Center, University of Hokkaido, Sapporo, 29th July, 2013- 4th August, 2013
Best Peer Reviewed Publications (upto 5):
Book Reviews
V.R. Raghavan and W. Lawrence Prabhakar (eds.), Maritime Security in the Indian Ocean Region: Critical Issues in Debate. New Delhi: Tata McGraw-Hill, 2008, pp. x +402, Rs 750, in South Asian Survey (2009), Vol.16, No.1, pp-159-163

Review Article
"Re-imagining Asia Geostrategically", South Asian Survey (2011), Vol.18,No.2. 

Book Chapters
"Conceptualization of 'Region' and the BRICS: A Critical Geopolitical Analysis" (Forthcoming 2013, BRICS Policy Center Publications, Rio de Janeiro in a book titled BRICS and Regionalization)

"Geopolitical Significance of the Indian Ocean Region" in Happymon Jacob (ed.) Does India Think Strategically? India's Strategic Culture and Foreign Policy, Manohar Publications, New Delhi, (Forthcoming 2013)

"Borderlands and Urbanspaces: A politico-geographical analysis", in Varun Sahni (ed.) Borders and Boundaries in International Relations: Barriers, Buffers, Bridges, Breaches and Bazaars/, Oxford University Press, (Forthcoming 2014)