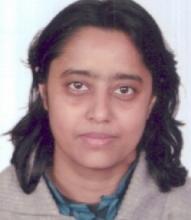 Centre/School/Special Centre
School of Life Sciences
Email
nmondal@mail.jnu.ac.in , nmondal@hotmail.com
Qualifications
B.Sc 1991 Zoology (Hons.)Botany & Chemistry, Ravenshaw College, Utkal University, India
M.Sc 1993 Life Sciences School of Life Sciences, Jawaharlal Nehru University, New Delhi, India
Ph.D 1999 Life Sciences School of Life Sciences, Jawaharlal Nehru University, New Delhi, India
Areas of Interest/Specialization
Cell Biology/Cancer Biology
Experience
Postdoctoral Research Fellow, Department of Pathology, Brigham and Women's Hospital, Harvard Medical School, Boston, USA, 1999- 2003
Assistant Professor, School of Life Sciences, Jawaharlal Nehru University, New Delhi, India 2003-2008
Associate Professor, School of Life Sciences, Jawaharlal Nehru University, New Delhi, India 2008-Till now
Awards & Honours
Qualified for the JRF Fellowship, Council for Scientific and Industrial Research, Government of India, 1992
Junior Research Fellow, UGC, 1993-1995
Senior Research Fellow, UGC, 1995-1998
DAAD Fellowship DAAD, German academic exchange service, 1997 (June-Nov.)
Postdoctoral Research Fellowship, Department of Pathology, Brigham and Women's Hospital, Harvard Medical School, Boston, USA, 1999- 2003
Visiting Assistant Professor, Department of Biomedical Informatics, Ohio State University, Columbus, USA, 2011 (May-July)
Visiting Assistant Professor, Department of Biomedical Informatics, Ohio State University, Columbus, USA, 2013 (May-July)
Best Peer Reviewed Publications
Mondal N. and Parvin J.D. (2001) DNA topoisomerase II associated with the RNA polymerase II holoenzyme is required for transcription on chromatin templates. Nature. 413, 435-438.

Mondal N, Zhang Y, Jonsson Z, Dhar SK, Kannapiran M, Parvin JD. (2003) Elongation by RNA polymerase II on chromatin templates requires topoisomerase activity. Nucleic Acids Res. 31(17):5016-24.

Zhang Y, Griffin K, Mondal N, Parvin JD. (2004) Phosphorylation of histone H2A inhibits transcription on chromatin templates. J Biol Chem. 279(21):21866-72.

Mondal , Parvin JD. (2005) The tumor suppressor protein p53 functions similarly to p63 and p73 in activating transcription in vitro. Cancer Biol Ther. 4(4):414-8

Dar A, Prusty D, Mondal N*, Dhar SK. (2009) A unique 45-amino-acid region in the toprim domain of Plasmodium falciparum gyrase B is essential for its activity. Eukaryot Cell. 8(11):1759-69. *Co-corresponding author.
Recent Peer Reviewed Journals/Books
Arivazhagan A, Kumar DM, Sagar V, Patric IR, Sridevi S, Thota B, Srividya MR, Prasanna K, Thennarasu K, Mondal N, Hegde AS, Chandramouli BA, Santosh V, Rao MR, Kondaiah P, Somasundaram K. (2012) Higher topoisomerase 2 alpha gene transcript levels predict better prognosis in GBM patients receiving temozolomide chemotherapy: identification of temozolomide as a TOP2A inhibitor. J Neurooncol 107(2), 289-97.
Hu Y, Wang C, Huang K, Xia F, Parvin JD, Mondal N. (2014) Regulation of 53BP1 protein stability by RNF8 and RNF168 is important for efficient DNA double-strand break repair. PLoS One. 9(10):e110522. doi: 10.1371/journal.pone.0110522.
Kumar A, Bhowmick K, Vikramdeo KS, Mondal N, Subbarao N, Dhar SK. (2017) Designing novel inhibitors against histone acetyltransferase (HAT: GCN5) of Plasmodium falciparum. Eur J Med Chem. 2017 Sep 29;138:26-37. doi: 10.1016/j.ejmech.2017.06.009. Epub 2017 Jun 10.
Patents (if any)
S.No

Patent Title

Name of Applicant(s)

Patent No

Award Date

Agency/Country

Status

1.

(SH-3): Potential molecule for Breast cancer

Neelima Mondal Kunwar Somesh Vikramdeo Archana Bist

Amir Azam Afreen Inam

201611005460

17/02/2016

INTELLECTUAL PROPERTY INDIA

In process

2.

(E)-N-(1-(3-chlorophenyl)propylidene)-4-methylbenzene sulfonohydrazide (SH2): Potential molecule against prostate cancer

Neelima Mondal Guru P. Sharma

Amir Azam Afreen Inam

201611002689

03/02/2016

INTELLECTUAL PROPERTY INDIA

In process

3.

N'-((1E)-(2,5-dimethoxyphenyl)methylene)-4-methylbenzene (SH1): Potential anti-cancer molecule for prostate cancer

Neelima Mondal Guru P. Sharma Amir Azam Afreen Inam

201611003778

25/01/2016

INTELLECTUAL PROPERTY INDIA

In process