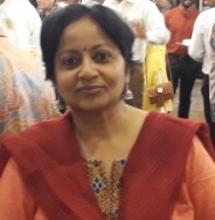 Centre/School/Special Centre:
Zakir Husain Centre for Educational Studies,
School of Social Sciences
Email:
parimalavrao@mail.jnu.ac.in ; parimalavrao@gmail.com
Qualifications:
Ph.D from the Centre for Historical Studies, Jawaharlal Nehru University, 2001
MPhil in History from Bangalore University- 1989 
Areas of Interest/Specialization:
History of Education, Indigenous Education, History of Schools, History of Curriculum and Text Books, Educational Policies and Debates of Colonial India, National Education, Historical Method and Historiography
Experience:
Assistant Professor 2008-till date
Senior Research Associate Centre for Women's Development Studies 2006-2008
Project Co-ordinator Vikas Adhyayana Kendra, Mumbai 2005
Project Co-ordinator for the University of Manitoba 2001-2005
Lecturer in History Mangalore University 1994-1995 
Awards & Honours:
Visiting Fellow, Institute of Education, London 2011 and 2014
Junior Fellow, Nehru Memorial Museum and Library, New Delhi, 2013 – 2015
Member, Editorial Board, History of Education, U.K.
International Collaboration/Consultancy:
Co-Editor with Gary McCulloch, Institute of Education, London and Shinichi Suzuki Waseda University Tokyo - Encyclopaedia of Asian Educators, Routledge UK
Co-Editor Shinichi Suzuki, Waseda University Tokyo special Issue on Asian Education- Espacio, Tympo y Educacion
Collaborative research on Missionary Education in India with Prof. Idesbald Goddeeris  Katholieke University, Leuven, Belgium
Best Peer Reviewed Publications (upto 5):
'Revisiting the Ideology of the Marxist –anti-colonial leader in Maharashtra', Journal of Social Inclusion Studies, 2018.
'Class, Identity and Empire: Scotsmen and Indian Education in the Nineteenth Century,' Social Scientist, October 2016, Nos. 520-21.
'Modern Education and the Revolt of 1857 in India,' Paedagogica Historica, No 52, 1-2, 2016.
'Trends in the Historiography of Indian Education: A Critical Review,' Jahrbuch fur Historische Bildungsforschung, No. 21, 2015.
'Promiscuous Crowd of English Smatterers': 'Poor' in the Colonial and Nationalist Discourse on Education in India 1835-1935, Contemporary Education Dialogue, No 10, No 2, 2013, pp. 223-248.
Recent Peer Reviewed Journals/Books (upto 3):
'Imperial Roots of Nationalist Education Model in India 1885-1947' in Marcelo Caruso, and Daniel Roger Maul, Decolonisation(s) and Education: New Politics, New Men, Humboldt University, Berlin, 2018.
(Ed) New Perspectives in the History of Indian Education, Orient BlackSwan, New Delhi, 2014, paperback 2016.
Foundations of Tilak's Nationalism: Discrimination, Education, and Hindutva, Orient BlackSwan, New Delhi, 2010, paperback 2011.