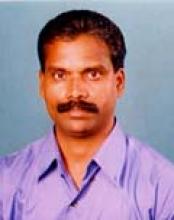 Centre/School/Special Centre:
School of Environmental Sciences
Areas of Interest/Specialization:
Radiation biology, Environmental Cancer Biology, Nanotoxicology and Occupational health, 
Awards & Honours:
• Received Young Scientist Award from International Union of Radio Science General Assembly (URSI-GA), Toronto, CANADA, 1999.
International Collaboration/Consultancy:
Best Peer Reviewed Publications (upto 5):

1.      Rohit Gautam  Kumari Vandana Singh  Jayprakash Nirala  Nina Nancy Murmu  Ramovatar Meena  Paulraj Rajamani, Oxidative stress‐mediated alterations on sperm parameters in male Wistar rats exposed to 3G mobile phone radiation,  Andrologia (2018)


2. Surya Narayan Pradhan, Aleena Das, Ramovatar Meena, Ranjan Kumar Nanda and Paulraj Rajamani, Biofluid metabotyping of occupationally exposed subjects to air pollution demonstrates high oxidative stress and deregulated amino acid metabolism, Scientific Reports |2016.  6:35972 | DOI: 10.1038/srep35972

3. Usha Singh Gaharwar Ramovatar Meena, Paulraj R Iron oxide nanoparticles induced cytotoxicity, oxidative stress and DNA damage in lymphocytes" Journal of Applied Toxicology 2017.Volume,37,Issue,10,2017 Pages 1232–1244., doi: 10.1002/jat.3485
4. Paulraj R and J.Behari, Single strand DNA breaks in rat brain cells exposed to microwave radiation, Mutation Research, 596, 76-80,2006.
5. Paulraj R., and J. Behari, Radiofrequency Radiation effect on Protein Kinase C Activity in rats' brain, Mutation Research, 545: 127-130, 2004
6. Dhanya K. Nambiar, Paulraj Rajamani, Rana P. Singh. Silibinin attenuates ionizing radiation-induced pro-angiogenic response and EMT in prostate cancer cells, Biochemical and Biophysical Research Communications, 2015 456 , 262–268
7.   Nambiar, D. K., Rajamani, P., Deep, G., Jain, A. K., Agarwal, R., & Singh, R. P. (2015). Silibinin preferentially radiosensitizes prostate cancer by inhibiting DNA repair signaling. Molecular cancer therapeutics, 14(12), 2722-2734
Recent Peer Reviewed Journals/Books (upto 3):
International J of Radiation Biology
Reatic oxygen Species( editor)
Chemosphere
EurAsian Journal of Biosciences