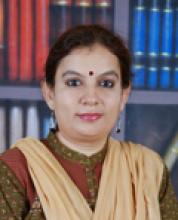 Centre/School/Special Centre:
Centre for Russian and Central Asian Studies,
School of International Studies
Email:
rajyadav@mail.jnu.ac.in , rajyadavjnu@gmail.com
Areas of Interest/Specialization:
Economics of Banking and Finance; Risk analysis and risk management of Soviet, Russian, Central Asian and Indian banking sector and Political economy of eurasian economies
Experience:
Aug 2010-30 January 2011: Assistant Professor in Economics Department of Central University of Haryana;
28 February 2011 - 30 September 2015: Worked as a Senior Lecturer/Assistant Professor in Universiti Utara Malaysia;
1st September onwards joined as an Assistant Professor in the Centre for Russian and Central Asian Studies, SIS, JNU  
International Collaboration/Consultancy:
Served as an active member in University Internationalization Committee and University International Research Grant Committee, in Universiti Utara Malaysia, Kedah, Malaysia.

Served as a facilitating member for MoU of Universiti Utara Malaysia with DePaul University, Chicago University and Kellogg School of Management (Faculty exchange and student exchange programme). 
Best Peer Reviewed Publications (upto 5):
Co-author in Paper titled "Savings and Investment Behavior of Bank Customers: Survey Findings", presented in World business and social science research conference, 24-25 October 2014, Bangkok, Thailand.

Presented and co-authored the Paper titled "Capital structure and firm performance: Evidence from Malaysian Listed Companies" in International Congress on Interdisciplinary Business and Social Science 2012, 1-2, December, Jakarta, Indonesia.

Authored the paper titled "Technical Efficiency of Malaysia's Development Financial Institutions: An Application of Two-Stage DEA analysis", Vol 11, No 16(2015) Asian Social Science, Scopus indexed Journal, Canadian Centre of Science and Education.