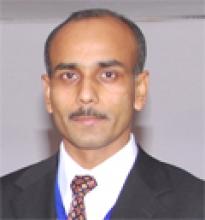 Centre/School/Special Centre:
Email:
rana_singh@mail.jnu.ac.in ; ranaps@hotmail.com
Areas of Interest/Specialization:
Carcinogenesis, Cancer Chemoprevention and Therapeutics, Tumor Angiogenesis, Radiation Therapy, Anticancer Drug Development from Natural Agents, Spheroids
Awards & Honours:
* ICMR International Fellowship for Young Biomedical Scientists-2013-14. (University of California Riverside, USA)
* Post-doctoral Trainee Award for Prostate Cancer Research, U.S. Army Medical Research and Materiel Command, Department of Defense, USA. (2003)
* Scholar-in-Training Award, American Association for Cancer Research, Philadelphia, PA, USA. (2002)
Editorial Board Member (present):
1. Scientific Reports- Assocaite Editor (2018- )
2. PLoS One - Academic Editor (2011- )
3. BMC Cancer - Associate Editor - Basic Research (2013- )
4. Frontiers in Cellular Biochemistry - Review Editor (2013- ) 
International Collaboration/Consultancy:
1. Radiation Oncology, Stanford School of Medicine, Stanford University, CA, USA.
2. School of Pharmacy, University of Colorado Denver, CO, USA.
3. College of Pharmacy, Sahmyook University, Seoul, South Korea. 
4. Department of Pharmacology and Chemical Biology, University of Pittsburgh, PA, USA
Best Peer Reviewed Publications (upto 5):
1. Vinchure OS, Sharma V, Tabasum S, Ghosh S, Singh RP, Sarkar C, Kulshreshtha R. Polycomb complex mediated epigenetic reprogramming alters TGF-β signaling via a novel EZH2/miR-490/TGIF2 axis thereby inducing migration and EMT potential in glioblastomas. International Journal of Cancer, doi: 10.1002/ijc.32360. 2019.
2. Sabarwal A, Agarwal R, Singh RP. Fisetin inhibits cellular proliferation and induces mitochondria-dependent apoptosis in human gastric cancer cells. Molecular Carcinogenesis, 56(2):499-514, 2017.
3. Nambiar DK, Rajamani P, Deep G, Jain AK, Agarwal R, Singh RP. Silibinin preferentially radiosensitizes prostate cancer by inhibiting DNA repair signaling. Molecular Cancer Therapeutics, 14; 2722-34, 2015.
4. Tailor D, Hahm ER, Kale RK, Singh SV, Singh RP. Sodium butyrate induces DRP1-mediated mitochondrial fusion and apoptosis in human colorectal cancer cells. Mitochondrion, 16; 55-64, 2014.
5. Singh RP, Deep G, Chittezhath M, Kaur M, Dwyer-Nield LD, Malkinson AM, Agarwal R. Effect of silibinin on the growth and progression of primary lung tumors in mice. Journal of National Cancer Institute, 98; 846-55, 2006.  
Publications: 145 (Research articles: 127; Book chapters: 13; Proceedings: 4 and Book: 1), 70/127 Papers in Journals of > 5 Impact Factor, H-index: 66, Citations: >10,000
Recent Peer Reviewed Journals/Books (upto 3):
Book:
1. Breast Cancer – Biology, Prevention and Treatment.  A.R. Rao and Rana P. Singh. Red Flower Publication, New Delhi, 2015.

Guest Editor for Special Issues:
1. Mitochondrion (2019) - Mitochondria in Health and Disease
2. Mitochondrion (May, 2014) – Role of Mitochondria in Health and Disease
3. Nutrition and Cancer (May, 2013) – Mechanisms of Bioactive Phytochemicals in Cancer Chemoprevention
4. Indian Journal of Experimental Biology (Nov. 2011) - Emerging Trends in Cancer: Prevention and Therapeutics 
Patents (if any):
Singh RP, Nambiar D, Agarwal R. "A novel and selective radiosensitizing agent for providing mechanism-based radiosensitizing effects in prostate cancer". Patent files, application no. 2889/del/2015.