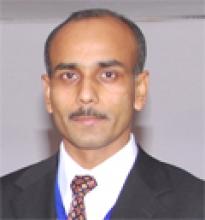 Centre/School/Special Centre:
Email:
rana_singh@mail.jnu.ac.in , ranaps@hotmail.com
Areas of Interest/Specialization:
Carcinogenesis, Cancer Chemoprevention and Therapeutics, Tumor Angiogenesis, Radiation Therapy, Anticancer Drug Development from Natural Agents
Awards & Honours:
* ICMR International Fellowship for Young Biomedical Scientists-2013-14. (University of California Riverside, USA)
* Post-doctoral Trainee Award for Prostate Cancer Research, U.S. Army Medical Research and Materiel Command, Department of Defense, USA. (2003)
* Scholar-in-Training Award, American Association for Cancer Research, Philadelphia, PA, USA. (2002)
Editorial Board Member:
1. Molecular Cancer Biology - Editor (2012- )
2. PLoS One - Academic Editor (2011- )
3. BMC Cancer - Associate Editor - Basic Research (2013- )
4. Frontiers in Cellular Biochemistry - Review Editor (2013- ) 
International Collaboration/Consultancy:
Best Peer Reviewed Publications (upto 5):
1. Nambiar DK, Rajamani P, Deep G, Jain AK, Agarwal R, Singh RP. Silibinin preferentially radiosensitizes prostate cancer by inhibiting DNA repair signaling. Molecular Cancer Therapeutics, 14; 2722-34, 2015.
2. Tailor D, Hahm ER, Kale RK, Singh SV, Singh RP. Sodium butyrate induces DRP1-mediated mitochondrial fusion and apoptosis in human colorectal cancer cells. Mitochondrion, 16; 55-64, 2014.
3. Jhala DV, Kale RK, Singh RP. Microgravity alters cancer growth and progression. Current Cancer Drug Targets, 14; 394-406, 2014.
4. Nambiar D, Deep G, Singh RP, Agarwal C, Agarwal R. Silibinin inhibit aberrant lipid metabolism, proliferation and emergence of androgen-independence in prostate cancer cells via primarily targeting the sterol response element binding protein 1. Oncotarget, 5; 10017-33, 2014.
5. Bhat TA, Nambiar D, Pal A, Agarwal R, Singh RP. Fisetin inhibits various attributes of angiogenesis in vitro and in vivo: Implications for angioprevention. Carcinogenesis, 33; 385-93, 2012.
Recent Peer Reviewed Journals/Books (upto 3):
Book:
1. Breast Cancer – Biology, Prevention and Treatment. 
A.R. Rao and Rana P. Singh. Red Flower Publication, New Delhi, 2015.

Guest Editor for Special Issues:
1. Mitochondrion (May, 2014) – Role of Mitochondria in Health and Disease
2. Nutrition and Cancer (May, 2013) – Mechanisms of Bioactive Phytochemicals in Cancer Chemoprevention
3. Indian Journal of Experimental Biology (Nov. 2011) - Emerging Trends in Cancer: Prevention and Therapeutics 
Patents (if any):
Singh RP, Nambiar D, Agarwal R. "A novel and selective radiosensitizing agent for providing mechanism-based radiosensitizing effects in prostate cancer". Patent files, application no. 2889/del/2015.