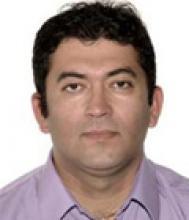 Assistant Professor (UGC)
Centre/School/Special Centre
School of Biotechnology
Email
ravitandon@jnu.ac.in
Qualifications
Ph.D. (Viral Immunology) : The Vetsuisse Faculty of the Universities Bern and Zurich, University of Zurich, Zurich, Switzerland (2008)
M.Sc. (Biotechnology): Jawaharlal Nehru University (JNU), New Delhi, India (2000)
B.Sc. (Zoology, Botany & Chemistry): Ewing Christian College, University of Allahabad, Prayagraj, India (1998)
Areas of Interest/Specialization
HIV immunology, Gut microbiology, Mucosal immunity and inflammation, HIV-H.pylori co-infection, Aging and Immune exhaustion.
Experience
* Assistant Professor: School of Biotechnology, Jawaharlal Nehru University, New Delhi (June 2014- present).
* Immunology Staff Scientist at Hawaii Center for AIDS, John A. Burns School of Medicine, University of Hawaii, USA (2011-2014).
* Postdoctoral fellowship in HIV-immunology from University of California, San Francisco (UCSF), USA (2008-2011).
Awards & Honours
Merit certificate in B.Sc. (1998).
Fellowship award by Department of Biotechnology (DBT), Govt. of India, New Delhi, India (1998-2000).
Fellowship by Biotech Consortium India Ltd. (BCIL), New Delhi, India (2000-2001)
Invited speaker in DST-Inspire Internship Science Camp-2015 on 6.11.2015 at the Botany Department, Allahabad University.
Young Scientist Award by Association of Microbiologists of India (December 7-10, 2015)
Successfully completed UGC sponsored orientation course at Human Resource Development Centre, Jawaharlal Nehru University, with "A" grade (16.11.2015-11.12.2015).
Life member of Indian Immunology Society (IIS).
Life membership of Association of Microbiologist of India (AMI).
Best Researcher Award (2023) by Mohanlal Sukhadia University, Udaipur in association with Microbiologists Society, India
Best Peer Reviewed Publications
Singh U, Gandhi HA, Nikita, Bhattacharya J, Ravi Tandon, Tiwari GL, Tandon R. Cyanometabolites: molecules with immense antiviral potential. Arch Microbiol. 2023 Apr 3;205(5):164. doi: 10.1007/s00203-023-03514-y.
Uttarilli A, Amalakanti S, Kommoju PR, Sharma S, Goyal P, Manjunath GK, Upadhayay V, Parveen A, Ravi Tandon, Prasad KS, Dakal TC, Ben Shlomo I, Yousef M, Neerathilingam M, Kumar A. Super-rapid race for saving lives by developing COVID-19 vaccines. J Integr Bioinform. 2021 Mar 25;18(1):27-43. doi: 10.1515/jib-2021-0002.
Preeti Moar, Ravi Tandon*, "Galectin-9 as a biomarker of disease severity". Cellular immunology. 2021 p.104287 doi: 10.1016/j.cellimm.2021.104287

(*Corresponding author)

Kaur US, Oyeyemi BF, Shet A, Gopalan BP, Himanshu D, Bhavesh NS, Ravi Tandon*. "Plasma metabolomic study in perinatally HIV-infected children using 1H NMR spectroscopy reveals perturbed metabolites that sustain during therapy" PLoS One. 2020 Aug 31;15(8):e0238316. doi: 10.1371/journal.pone.0238316.

(*Corresponding author)

Preeti Moar, Kumari Sushmita, Suneel Kateriya, Ravi Tandon*, "Transcriptional profiling indicates cAMP-driven reversal of HIV latency in monocytes occurs via transcription factor SP-1". Virology. 2020 Mar;542:40-53. doi: 10.1016/j.virol.2020.01.006. (*Corresponding author)
Vidhya Natarajan, Preeti Moar, Urvinder S. Kaur, Vimala Vemkatesh, Abhishek Kumar, Rupesh Chaturvedi, Himanshu D, Ravi Tandon*, "Helicobacter pylori reactivates Human Immunodeficiency Virus-1 in latently infected monocytes with increased expression of IL- 1b and CXCL8". Current Genomics. 2019 (20) December 8. doi: 10.2174/1389202921666191226091138

(* Corresponding author)

Kaur US, Shet A, Rajnala N, Gopalan BP, Moar P, D H, Singh BP, Chaturvedi R, Ravi

Tandon*

, "High Abundance of genus Prevotella in the gut of perinatally HIV-infected children is associated with IP-10 levels despite therapy". Scientific Reports. 2018 Dec 5;8(1):17679. (* Corresponding author)
Abdel-Mohsen M, Chavez L, Ravi Tandon et. al., "Human Galectin-9 is a potent mediator of HIV transcription and reactivation". PLoS Pathog. 2016 Jun 2: 12 (6): e1005677.
A. Kumar*, A. Bhandari, Sandeep J Sarde, S. Muppavarapu, and Ravi Tandon*, "Understanding V(D)J recombination initiator RAG1 gene using molecular phylogenetic and genetic variant analyses and upgrading missense and non-coding variants of clinical importance" BBRC. 2015

(* Corresponding author)

Ravi Tandon

, Chew GM, Byron MM, Borrow P, Niki T, Hirashima M, Barbour J,

Norris PJ, Martin J, Deeks S, Ndhlovu L. Galectin-9 is Rapidly Released during Acute HIV-1 Infection and Remains Sustained at High Levels Despite Viral Suppression Even In Elite Controllers. AIDS Res Hum Retroviruses. 2014, Apr 30.

Ravi Tandon,

Maria T. M. Giret, Sengupta D, York VA, Wiznia AA, Rosenberg MG, Kallas EG, Ndhlovu LC, Nixon DF. Age-related Expansion of Tim-3 Expressing T cells in Vertically HIV-1 Infected Children. PLoS One. 2012; 7 (9): e45733.

Ravi Tandon

, SenGupta D, Ndhlovu LC, Vieira RG, Jones RB, York VA, Vieira VA, Sharp ER, Wiznia AA, Ostrowski MA, Rosenberg MG, Nixon DF. Identification of Human Endogenous Retrovirus (HERV)-specific T cellresponses in vertically

HIV-1-

infected subjects. J Virol. 2011 Aug 3.
Patents (if any)
Reversal of latency of retroviruses with Galectin protein.

US patent publication number: 20180153901; filed: March 10, 2016; Publication date: June 7, 2018. Inventors: Satish K. Pillai, Mohamed Abdel-Mohsen, , Leonard Chavez, Lishomwa Ndhlovu, Ravi Tandon, Toshiro Niki, Misuomi Harashima