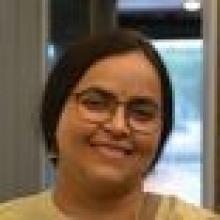 Centre/School/Special Centre:
Centre for Studies in Science Policy,
School of Social Sciences
Email:
reetasony@mail.jnu.ac.in ; aalsony@gmail.com
Qualifications:
Ph.D (Information Technology-Law) - National Law University, Delhi.
BA.L, LL.B, LL.M (Masters in Business Law) - University Law College, Bangalore.
Areas of Interest/Specialization:
Law, Science, Technology, and Society
Intellectual Property related Laws: Patents, Computer-related Inventions, Traditional Knowledge, Traditional Cultural Expression, Protection of Biodiversity, Plant Variety Protection, etc.
Information Technology Law and Society: Data Protection and Privacy, Internat Governance, Legal and Ethical Issues of Cloud Computing, Artificial Intelligence, IoT, Big Data, Open Data, etc.
Awards & Honours:
Recipient of Postdoc fellowship (2017) position at the International Laboratory for Information Technology and Intellectual Property Law at Higher School of Economics in Moscow, Russia.
All India Rajiv Gandhi National Fellowship (RGNF) - Junior Research Fellowship (JRF) by the University Grant Commission (UGC) 
All India Rajiv Gandhi National Fellowship (RGNF) - Senior Research Fellowship (SRF) by the University Grant Commission (UGC) 
Professional Activities
Written a module for MHRD-UGC Project entitled "e-PG Pathshala: The Gateway to All Post Graduate Courses" under its National Mission on Education through ICT (NME-ICT) on the subject "Cloud Computing and its legal issues"
Technical Committee for National Conference on Big Data Analytics & Cloud Computing,  29-31 December 2015, Hyderabad, India
Speaker at 5th International Conference  on "Law in Digital Environment", November 23 – 24, 2015, Moscow, Russia
International Summer school on Cyber Law held by the Information Law Laboratory, National Research University "Higher School of Economics", Moscow, Russia
Cisco Certified Network Associates(CCNA), Cisco Id: CSCO10955283
Certification in Hardware A+, Networking, N+, MCSA 2003, Red hat Linux  from Indian Institute of Hardware Technology(IIHT), Bangalore
Member of Computer Society of India
Member of Internet Society- India Delhi Chapter
Member of Karnataka State Bar Association
Member in CISCO Network Associates
International Collaboration/Consultancy:
International Collaboration/Consultancy
Best Peer Reviewed Publications (upto 5):
Reeta Sony A.L, Sri Krishna Deva Rao, Devi Prasad Bhukya, Sai Deep B, "Solving e-Governance Challenges in India through the Incremental Adoption of Cloud Services", Proc. Law. Journal of the Higher School of Economics, Law in the Modern World,, Russia, May 2015.
Reeta Sony A.L, Sri Krishna Deva Rao, Bhukya Devi Prasad, "Data Protection and Cloud Computing: a Jurisdictional Aspect", Law. Journal of the Higher School of Economic, Russia, Page 81-91, 2013
Reeta Sony A.L, Sri Krishna Deva Rao, Bhukya Devi Prasad, "Implications of cloud computing for personal data protection and privacy in the era of the Cloud: An Indian perspective", Law. Journal of Higher School of Economic, Russia, Page 64-80, 2013