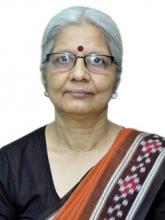 Centre/School/Special Centre
Centre of Social Medicine and Community Health,
School of Social Sciences
Off. Phone
011-26704615 / 26704420
Residence
011-26742102 / 9313350186
Email
ritupriya@mail.jnu.ac.in , ritu_priya_jnu@yahoo.com
Qualifications
M.B.,B.S., Ph.D. (Community Health)
Areas of Interest/Specialization
Public policy formulation and analysis interlinking epidemiology, political economy, health culture and the politics of knowledge
Communicable disease control programmes; Nutrition & health
Urban planning and health; Impact of public policies on health of migrant labour, the urban poor and dalit groups
Interdisciplinary and Transdisciplinary health research methodology
Holistic Epidemiology and Health Systems Research
Experience
Faculty member at the Centre of Social Medicine and Community Health, Jawaharlal Nehru University, since 1990.
Advisor, Public Health Planning at the National Health Systems Resource Centre (National Rural Health Mission, Min. of H & FW, Government of India) on deputation, 2008 & 2009.
International Collaboration/Consultancy
The SITRA Innovations Fellowship granted by the Finnish government for research titled 'The Construction of a Democratic Welfare State under Globalisation: Lessons from Finnish and Indian Public Policy Processes', 2008-09. Hosted by the Institute of Development Studies, University of Helsinki.
'Review Of Private/Public/NGO Sectors Collaboration Within The TB Care In India'. A state of the art review for the India Office, Department for International Development, Government of Great Britain, July 1997.
Part of the faculty team involved in a project undertaken by the CSMCH on 'A Critical Review & Documentation of Available Studies on the Private Sector in Health in India for the Ministry of Health' funded by the WHO, Nov'99-2000. (with Rama Baru & Imrana Qadeer).
Coordinator of one of the three working-groups of an European Union-Funded Project at the CSMCH on 'Monitoring Impact of SAP on Health in South Asia'. Jan. 2000- Dec. 2004.
Co-coordinator of an Accompanying Measure funded by the European Union, on Methodological Issues in Assessing Impact of SAP on Health in South Asia.
Co-Director of a collaborative project on 'Dialogues on Strategies of AIDS Control in India (South-Asia)' of the CSMCH, JNU and Centre for the Study of Developing Societies, funded by the Centre for Environment & Development, Finland. 2001-2002.
Principal Investigator of a project study titled 'A Study on Community Responses to Long Term Illness and Death Among Young Adults: Women's Experiences and Perceptions in two Low Caste Groups in India', as part of a multi-country study of the United Nations Research Institute for Social Development (UNRISD) programme on 'Community Responses to HIV/AIDS'. 2004-05.
Core Team member of a multi-centric study for preparing a Public Report on Health. Located at the Council for Social Development, New Delhi, funded by the IDRC, 2005-2007.
Organised a Seminar on "Health Technology: Assessment, Choices and IPR Issues" was organised, New Delhi, 14th September 2009, at NHSRC in collaboration with Department for International Development (DFID) and British High Commission].
CO-PI in research project titled ' Risks and Responses to Urban Futures' with PI Prof. Fiona Marshall, University of Sussex (UK), funded by ESPA. 2014-2017
CO-PI in research project titled 'Inclusive Green Infrastructure and Urban Wellbeing' with PI Prof. Fiona Marshall, University of Sussex (UK), funded by the GCRF (UK).
Principal Coordinator of the 'South Asia Sustainability Hub and Knowledge Network' of the Pathways to Sustainability Global Consortium led by the STEPS Centre, IDS, University of Sussex. 2018-to date
Best Peer Reviewed Publications
'Disability Adjusted Life Years as a Tool for Public Health Policy: A Critical Assessment' in Qadeer I, Sen K & Nayar Kr (Ed), Public Health & the Poverty of Reforms: The South-Asian Predicament, New Delhi, Sage Pub. 2001. pp. 154-173.
'Learning to live with AIDS: New approaches may be needed if AIDS is to be controlled'. Review Article. Nature, Vol. 423, 12 June, 2003, 685-6.
'Town Planning, Public Health and Delhi's Urban Poor: A Historical View', in Patel S. & Deb K. (Ed) Urban Studies, Oxford in India Readings. 2006, New Delhi. Pp.223-245.
'Contextualising AIDS and Human Development: Long-term Illness and Death Among Adults of Low Caste Labouring Groups in India', AIDS Care, Special Issue on Community Responses to HIV and AIDS, Vol. 19 Supp. 1, 2007, pp. S 25-43. (Ritu Priya & C. Sathyamala)
'Towards an Eco-social Epidemiology Approach to Goitre and Other Iodine Deficiency Disorders: A Case study of India's Technocratic Programme for Universal Iodisation of Salt'. IJHS, Vol. 39, No.2. 2009. (Ritu Priya, Atul Kotwal & Imrana Qadeer)
'State, Community and Primary Health Care: Empowering or Disempowering Discourses?' in Equity and Access: Health Care Studies in India. Editors: Prasad P.N.and Jesani A., Oxford University Press, 2018, New Delhi. Pp. 25-49
Health Implications of Diverse Visions of Urban Spaces: Bridging the Formal-Informal Divide. Front. Public Health 7:239. doi: 10.3389/fpubh.2019.00239 2019. (Ritu Priya, Ranvir Singh, Sayan Das).
Recent Peer Reviewed Journals/Books
Priya, R.; Bisht, R.; Randhawa, P.; Arora, M.; Dolley, J.; McGranahan, G.; Marshall, F. 'Local Environmentalism in Peri-Urban Ghaziabad: Emergent Ecological Democracy?' STEPS Centre Working Paper, Brighton, UK. 2017.
Priya, R. and Kurian C.M. 'Regulating Access and Protecting Traditional Health Knowledge through Intellectual Property Rights? Issues from a Holistic Health Systems Perspective'. Science, Technology & Society 23:3 (2018): 1–26.
The Structural Basis of Corruption in Healthcare in India', in Healers or Predators? Healthcare Corruption in India. Editors: Nundy S., Desiraju K., Nagral, S., Oxford University Press, 2018, New Delhi. Pp. 3-43. (with Prachinkumar Ghodajkar)
Ritu Priya, Sanghmitra Acharya, Rama Baru, Vikas Bajpai, Ramila Bisht, Rajib Dasgupta, Prachinkumar Ghodajkar, Nemthiang Guite, Sunita Reddy: Beyond Biomedical and Statistical Approaches in COVID-19: How Shoe-leather Public Health Works. Economic & Political Weekly, October 31, 2020 vol lV no 44, p. 47-58.
Ritu Priya, Sanghmitra Acharya, Rama Baru, Vikas Bajpai, Ramila Bisht, Prachinkumar Ghodajkar, Nemthiang Guite, Sunita Reddy. Indian Public Health Associations on COVID-19 The Politics of Knowledge. Economic & Political Weekly, August 8, 2020, vol lV nos 32 & 33, p/ 19-22.
The Deepening of Disciplinary Content: Public Health in Post-COVID India' (Guest editorial —Ritu Priya and R.N.K. Bamezai), for journal Dialogue: Science, Scientists and Society, Special Issue on Public Health, December 2021. DOI: https://doi.org/10.29195/DSSS.03.01.0039
Critical Holism as Public Health Theory: towards building a unifying frame work for research, policy and planning', Dialogue: Science, Scientists and Society, Special Issue on Public Health, December 2021. DOI: https://doi.org/10.29195/DSSS.03.01.0033