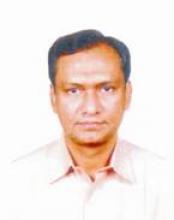 Centre/School/Special Centre:
School of Sanskrit and Indic Studies
Email:
rkmishra@mail.jnu.ac.in , mishrarajnish@gmail.com
Qualifications:
M.A. (Linguistics), JNU. 
M.Phil., JNU
Ph.D. , JNU
Areas of Interest/Specialization:
Sanskrit Linguistics, Philosophy of language, Indian Grammatical Tradition, Literary Theory, Comparative Poetics and Aesthetics, Kashmir êaiva Philosophy, Buddhism 
Awards & Honours:
Okita Memorial Scholarship, 1998 of the Indian Council for Cultural Relations, New Delhi. 
Best Peer Reviewed Publications (upto 5):
Articles/ Research Papers/Reviews:
i. "Buddhist Theory of Meaning" in Signs and Signification, Vol. II, pp. 337-358, (2000) Eds. H.S. Gill and Giovanni Manetti, Delhi: Bahari Publication. 
ii. Review article: Words of My Perfect Teacher of Patrul Rinpoche in the Indian Book Chronicles, June, 2000; published from Jaipur, Rajasthan.
iii. Review of BhŒrat´ya KŒvya Vimar§a by Acharya Ramaurti Tripathy (Delhi: Vani Prakashan, 2000) in Pustaka VŒrtŒ (ed. Shri Ashok Vajapeyi), Delhi: Mahatma Gandhi International Hindi University, Vol. I, Issue 1, 2001.
iv. "Sthitpraj–asya kŒ bhŒ•Œ: What is Liberated/Decolonized Mind?" [published the proceedings of the seminar and also in the forthcoming issue of the Critical Practices published by the Dept. of English, Saurashtra University, Rajakot (Gujarat) and also in Decolonization: A Search for Alternative (ed.) Adesh Pal et. al., Delhi: Creative Books, 2000.].
v. Nirvacana as Signification: îchŒrya Abhinavagupta's Exposition of Anuttara, in êabda: Texts and Interpretation in Indian Thought (eds.) Sareen, Santosh K. and Makarand Paranjape, Mantra Books, Delhi. August 2004. ISBN81-902304-1-7. 
Recent Peer Reviewed Journals/Books (upto 3):
Books:
i. Buddhist Theory of Meaning and Literary Analysis (1999), Delhi: D.K. Printworld (P) Ltd. (a widely reviewed, referred and studied book). 
ii. êaiva Philosophy and Literary Theory (forthcoming).