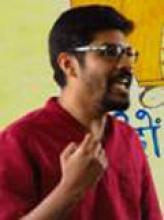 Centre/School/Special Centre:
Centre for Economic Studies and Planning,
School of Social Sciences
Qualifications:
Ph.D (Economics): 2010, Jawaharlal Nehru University
Master's (Economics): 2001, Jawaharlal Nehru University
Bachelor's (Economics Honours): 1999, Shri Ram College of Commerce, Delhi University
Areas of Interest/Specialization:
Macroeconomic Theory; Monetary Economics; Growth Theory
Experience:
Current Appointment:
Assistant Professor, CESP JNU, April 2013-
Past Appointments: 
Assistant Professor, Faculty of Economics, South Asian University, Delhi, August 2010-March 2013
Guest Faculty, Indian Institute of Technology, Delhi, June 2009-July 2010
Fulbright Doctoral Fellow, University of Massachusetts, Amherst, USA, August 2006 - May 2007
Awards & Honours:
Fulbright Doctoral and Professional Research Fellowship 2006-07 awarded by the United States Educational Foundation India (USEFI) 
Best Peer Reviewed Publications (upto 5):
1. [2013] "The Slide of the Rupee: Is Bernanke Responsible?", Economic & Political Weekly, Vol. 48, No. 31, August 03, 2013
2. [2013] "Inflation Targeting in Developing Countries: Barking Up the Wrong Tree", Economic and Political Weekly, forthcoming [With Anupam Das].
3. [2012] "A Steindlian Model of Concentration, Debt and Growth", Metroeconomica, 63(2), pp. 295-334, May 2012
4. [2011] "Income Distribution, Irrational Exuberance and Growth: A Theoretical Model of the US Economy", Review of Radical Political Economics, Volume 43, Issue 4, pp. 449 - 466, December 2011.
5. [2010] "Sovereign Debt Crisis in Greece: Is there a way forward?", Economic & Political Weekly, Vol. 45, No. 28, July 10 - July 16, 2010 
Recent Peer Reviewed Journals/Books (upto 3):
Book
It's Not Over: Structural Drivers of the Global Economic Crisis, Oxford University Press: Delhi, 2013.
Chapters in Books
1. "Output and Price Stability in the Advanced Economies Under Neoliberalism: A Kaleckian Approach" in a Festschrift in the honour of Prabhat Patnaik (Book title to be decided), Oxford University Press: Delhi, forthcoming.
2. "A Macrotheoretic Survey of Monetary Policy in a Closed Economy" in Patnaik, P. (ed.), India and the World Economy, Oxford University Press: Delhi, forthcoming [With C. Saratchand]