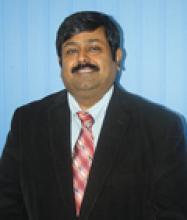 Centre/School/Special Centre
School of Biotechnology
Email
rupesh@mail.jnu.ac.in, rupesh.chaturvedi.jnu@gmail.com
Areas of Interest/Specialization
Host Pathogen interaction/ Infection Biology
Experience
Research Instructor: Vanderbilt University Nashville, TN, Department of Medicine, July 2005- August 2012
Assistant Professor of Medicine (Tenure Track): Vanderbilt University Nashville, TN, Department of Medicine, August 2012- 2014
Associate Professor: School of Biotechnology, Jawaharlal Nehru University, New Delhi,
Professor: School of Biotechnolgy, Jawaharlal Nehru University, New Delhi
Awards & Honours
1984 - 1986 National Talent Search scholarship, Government of India
1996 - 1997 Roche Fellow, King George Medical University, Lucknow, India
2012 Member, Elliot Newman Society Vanderbilt University
2012- Member: Halifax Project task force focused on "A Broad-Spectrum Integrative Design for Cancer Prevention and Therapy"
2012- Members of the Program in Microbial Pathogenesis, Vanderbilt University
2013- Academic Editor: PLOS One
2013- Editorial Board JSM Gastroenterology and Hepatology
Best Peer Reviewed Publications
1. Asim M, Chikara SK, Ghosh A, Vudathala S, Romero-Gallo J, Krishna US, Wilson KT, Israel DA, Peek RM Jr, Chaturvedi R. Draft Genome Sequence of Gerbil-Adapted Carcinogenic Helicobacter pylori Strain 7.13. Genome Announc. 2015 Jun 11;3(3).
2. Chaturvedi R, de Sablet T, Asim M, Piazuelo MB, Barry DP, Verriere TG, Sierra JC, Hardbower DM, Delgado AG, Schneider BG, Israel DA, Romero-Gallo J, Nagy TA, Morgan DR, Murray-Stewart T, Bravo LE, Peek RM Jr, Fox JG, Woster PM, Casero RA Jr, Correa P, Wilson KT. Increased Helicobacter pylori-associated gastric cancer risk in the Andean region of Colombia is mediated by spermine oxidase. Oncogene. 2015 Jun;34(26):3429-40.
3. Chaturvedi R, Asim M, Piazuelo MB, Yan F, Barry DP, Sierra JC, Delgado AG, Hill S, Casero RA Jr, Bravo LE, Dominguez RL, Correa P, Polk DB, Washington MK, Rose KL, Schey KL, Morgan DR, Peek RM Jr, Wilson KT. Activation of EGFR and ERBB2 by Helicobacter pylori results in survival of gastric epithelial cells with DNA damage. Gastroenterology. 2014 Jun;146(7):1739-51.e14.
4. Chaturvedi R, Asim M, Romero-Gallo J, Barry DP, Hoge S, de Sablet T, Delgado AG, Wroblewski LE, Piazuelo MB, Yan F, Israel DA, Casero RA Jr, Correa P, Gobert AP, Polk DB, Peek RM Jr, Wilson KT. Spermine oxidase mediates the gastric cancer risk associated with Helicobacter pylori CagA. Gastroenterology. 2011 Nov;141(5):1696-708.e1-2.
5. Chaturvedi R, Asim M, Hoge S, Lewis ND, Singh K, Barry DP, de Sablet T, Piazuelo MB, Sarvaria AR, Cheng Y, Closs EI, Casero RA Jr, Gobert AP, Wilson KT. Polyamines Impair Immunity to Helicobacter pylori by Inhibiting L-Arginine Uptake Required for Nitric Oxide Production. Gastroenterology. 2010 Nov;139(5):1686-98
Recent Peer Reviewed Journals/Books
1. Asim M, Chikara SK, Ghosh A, Vudathala S, Romero-Gallo J, Krishna US, Wilson KT, Israel DA, Peek RM Jr, Chaturvedi R. Draft Genome Sequence of Gerbil-Adapted Carcinogenic Helicobacter pylori Strain 7.13. Genome Announc. 2015 Jun 11;3(3).
2. Chaturvedi R, de Sablet T, Asim M, Piazuelo MB, Barry DP, Verriere TG, Sierra JC, Hardbower DM, Delgado AG, Schneider BG, Israel DA, Romero-Gallo J, Nagy TA, Morgan DR, Murray-Stewart T, Bravo LE, Peek RM Jr, Fox JG, Woster PM, Casero RA Jr, Correa P, Wilson KT. Increased Helicobacter pylori-associated gastric cancer risk in the Andean region of Colombia is mediated by spermine oxidase. Oncogene. 2015 Jun;34(26):3429-40.
3. Chaturvedi R, Asim M, Piazuelo MB, Yan F, Barry DP, Sierra JC, Delgado AG, Hill S, Casero RA Jr, Bravo LE, Dominguez RL, Correa P, Polk DB, Washington MK, Rose KL, Schey KL, Morgan DR, Peek RM Jr, Wilson KT. Activation of EGFR and ERBB2 by Helicobacter pylori results in survival of gastric epithelial cells with DNA damage. Gastroenterology. 2014 Jun;146(7):1739-51.e14.