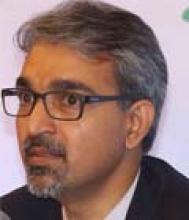 Centre/School/Special Centre:
Centre for East Asian Studies,
School of International Studies
Email:
sandipmishra@mail.jnu.ac.in , sandipmishra10@hotmail.com
Areas of Interest/Specialization:
Korean Politics, Korea's Foreign Policy, International Relations in East Asia, North Korean Nuclear Policy, Human rights in Korea
Awards & Honours:
Korea Foundation Language Fellowship 2010 and 2006
Korea Foundation Field Research Fellowship 2005
UGC JRF-NET 1998-2003
Best Peer Reviewed Publications (upto 5):
"India and Republic of Korea: Growing Strategic Partnership," Foreign Affairs Journal, Vol. 7, No. 3, July-September 2012, pp. 321-330. (With Skand R Tayal)

"Korean National Identity Discourse: Evolution, Colonialism and Division," The Journal of Northeast Asian History, Vol. 8, No. 2, Winter 2011, pp. 5-34.

"Inter-Korean Relations and the Role of US in the Post-Cold War Era," Journal of Indian Studies, Vol. 11, No. 2, November 2006, pp. 239-281.

"Changing Landscape of Northeast Asian Security," World Affairs, Vol. 10, No. 2, Summer 2006, pp. 60-71.

"The Process of Political Modernization: A Comparative Study of Korea and India," a chapter in Sushila Narsimhan and Do Young Kim (eds.), Korea and India: A Forging Relationship, New Delhi, Manak Publications and Department of East Asian Studies, University of Delhi, 2006, pp. 151-168. 
Recent Peer Reviewed Journals/Books (upto 3):
"China and Korean Peninsula in 2015: Evolving Dynamics", in Jagannath P. Panda (ed.), China Year Book 2015: China's Transition under Xi Jinping," New Delhi: Pentagon Press, 2016, pp. 370-381.

"Territorial Issues in South Asia and Northeast Asia: A Comparative Perspective," The Korea Journal of Security Affairs, Vol. 21, No. 1, June 2016, pp. 61-82. (With Chinsoo Bae)

"The Colonial Origins of Territorial Disputes in South Asia," Journal of Territorial and Maritime Studies, Vol. 3, No. 1, January 2016, pp. 5-23.