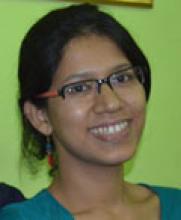 Centre/School/Special Centre:
Centre for International Politics, Organization and Disarmament,
School of International Studies
Email:
santana@jnu.ac.in khanikarsantana@gmail.com
Areas of Interest/Specialization:
Violence and Territoriality; Policing; Nationality movements; Urban Spaces; Gender studies; Political Theory
Experience:
After completing my doctoral research I taught postgraduate courses in political theory and comparative politics at Delhi University for about two years. Prior to joining JNU I had also worked as an Assistant Professor at the Centre for Women's Development Studies (CWDS), Delhi. After joining JNU in September 2015, I have been teaching MA and MPhil courses on political geography. I have supervised MPhil and PhD research on the issues of territoriality and map making, identity movements, migration and refugee crisis, and spaces of violence. My forthcoming book (Oxford University Press, 2018) examines the violent practices of power at marginalized locales – both spatial and politico-social. 
Awards & Honours:
1. Liverpool India Fellowship 2016
2. IEG-TTI Postdoctoral Fellowship, Institute of Economic Growth, 2014
3. Karan Singh Gold Medal, University of Delhi, 2008
4. UGC-Research Fellowship, Aug 2008 – July 2013
5. University Teaching Assistantship, Department of Political Science, University of Delhi
International Collaboration/Consultancy:
Best Peer Reviewed Publications (upto 5):
1. State, Violence and Legitimacy in India, New Delhi: Oxford University Press, 2018 (https://india.oup.com/product/state-violence-and-legitimacy-in-india-9780199485550?searchbox_input=santana)
2. "Women Police in the city of Delhi: Gender Hierarchies, 'Pariah Femininities', and the Politics of Presence", Studies in Indian Politics, Volume 4, No 2, 2016
3. 'Lumpenproletariat', in Encyclopedia of World Poverty (2nd Edition), eds. Odekon, Mehmet, Golson, J. Geoffrey, Sage, 2015, ISBN  9781412918077
4. 'Police ke chutbhaiye samprabhu: "Dusht" aur "Lokpriya" Samprabhuta: Kuch Ethnographic Notes', Pratiman : Samay Samaj Sanskriti CSDS, Vani Prakashan, Delhi, July-December 2014, Volume II, Issue 2, ISSN 2320-8201, pp. 711-728
5. 'Missing Women', in Encyclopedia of World Poverty (2nd Edition), eds. Odekon, Mehmet, Golson, J. Geoffrey, Sage, 2015, ISBN  9781412918077
Recent Peer Reviewed Journals/Books (upto 3):
1. 'Women Police in the city of Delhi: Gender Hierarchies, "Pariah Femininities", and the Politics of Presence', Studies in Indian Politics, Volume 4, No 2, 2016
2. 'Feminist Approaches to Poverty', in Encyclopedia of World Poverty (2nd Edition), ed. Odekon, Mehmet, Golson, J. Geoffrey, Sage, 2015, ISBN  9781412918077
3. Book review, Uddipana Goswami, Conflict and Reconciliation: The Politics of Ethnicity in Assam  in Studies in Indian Politics, Vol, No, 2015, Sage, ISSN: 2321-0230