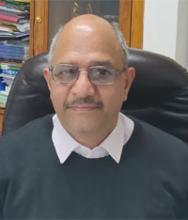 Centre/School/Special Centre:
School of Environmental Sciences
Email:
scgarkoti@mail.jnu.ac.in , sgarkoti@yahoo.com
Areas of Interest/Specialization:
Forest Ecology, Traditional ecological Knowledge, Tree water relations
Experience:
27 years of Research and 19 years of Teaching
Best Peer Reviewed Publications (upto 5):
Garkoti, S.C. & S.P. Singh (1994). Nutrient Cycling in three Central Himalayan Forests Ranging from Close-canopied to Open-canopied tree-line forests. Arctic and Alpine Research. 26: 339 - 348. 
Garkoti, S.C. & S.P. Singh (1995).Variation in forest biomass and net primary productivity in the high mountains of Central Himalaya. Journal of Vegetation Science. 6: 23-28. 
Garkoti, S.C. (2011). Fine root productivity and turnover in high altitude forests of central Himalaya. Journal of Forest Research 16:136–143.
Ferry Slik, J. W.,…..S.C. Garkoti ….. et al. (2018). Phylogenetic classification of the world's tropical forests. PNAS, 115, (8)1837-1842. https://doi.org/10.1073/pnas.1714977115.
M. Krishna, S.K. Singh, J.K. Tripathi, R. Chaturvedi & S.C. Garkoti (2019). Effect of alder on soil bacteria offers an alternative explanation to the role played by alder in rock weathering. PNAS Letters. www.pnas.org/cgi/doi/10.1073/pnas. 1910718116.
Recent Peer Reviewed Journals/Books (upto 3):
Nepolion Borah, RL Semwal & S..C. Garkoti (2018). Ethnomycological knowledge of three indigenous communities of Assam, India. Indian Journal of Traditional Knowledge Vol. 17 (2), pp 327-335.
Nepolion Borah, Florida Devi Athokpam, RL Semwal & S.C. Garkoti (2018). Chakhao(Black Rice; Oryza sativa L.): A culturally important and stress tolerant traditional rice variety of Manipur. Indian Journal of Traditional KnowledgeVol. 7(4), October 2018, pp. 789-794.
M S Umesh Babu, Lala Saha & S.C. Garkoti (2019). Changing socio-economic and climate scenario calls for documentation of the traditional knowledge and practices related to riverbed cultivation: a case study of a migrant farming community from Western Himalaya, India, Agroecology and sustainable food systems. Doi.10.1080/21683565.2019.1622618.