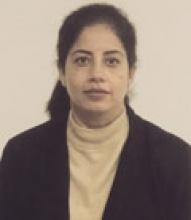 Centre/School/Special Centre:
Centre for the Study of Regional Development,
School of Social Sciences
Email:
seemab@mail.jnu.ac.in seema.bathla@gmail.com
Qualifications:
M.Phil (Economics) Delhi School of Economics, Delhi
Ph.D. (Economics) Jawaharlal Nehru University, New Delhi 
Areas of Interest/Specialization:
Agricultural economics, agricultural trade, public and private capital formation in agriculture, public expenditure and rural poverty, credit, agriculture markets and marketing, agriculture food processing industry linkages 
Experience:
Since November 2013 Professor, Centre for the Study of Regional Development, JNU.

November 2007 – October 2013 Associate Professor, Centre for the Study of Regional Development, JNU.

August 2006 – October 2007 Deputy Director, Agriculture, Water and Rural Development Division, FICCI.

January 2004 –July 2006 ICSSR Doctoral Fellow, Institute of Economic Growth, Delhi University Enclave

April 1999-December 2003: Assistant Professor, NABARD Chair Unit, Institute of Economic Growth, Delhi University Enclave, Delhi.

February 1998-February 1999: Research Associate, Resource and Development Economics Group, The Energy Research Institute, New Delhi.

October, 1997 – January 1998: Consultant, WWF-India and Agro Economic Research Centre, Delhi University.

September 1993 - September 1997: Economist, Environment Unit, Institute of Economic Growth, Delhi University Enclave.

September 4, 1991 – September 30, 1992: Lecturer, Delhi College of Arts and Commerce, Delhi University. 
Awards & Honours:
Recipient of the Jawaharlal Nehru Award for Outstanding Post-Graduate Agricultural Research 2008 by the Indian Council of Agricultural Research (ICAR) in 2009. 

Selected in the USAID programme on Agriculture Development in USA from July 6- 26, 2002. 
International Collaboration/Consultancy:
1. International Food Policy Research Institute (IFPRI) - Accelerating agricultural growth and poverty alleviation through public expenditure in India 

2. World Bank- Accelerating private investment and competitiveness in food processing industry in India: a state level analysis 

3. World Bank – Agriculture industry linkages and post-harvest management in India

4. NCAER and FAO - The food grain stocking policy in India.

5. UNCTAD – Impact of trade on employment, wages and labour productivity in unorganized manufacturing in India 

6. African Asian Rural Development Organisation - Economic and social and viability of agro-processing industry in India  
Best Peer Reviewed Publications (upto 5):
1. Inter-sectoral productivity differentials in India: is convergence achievable? (with Alwin D'souza), South Asian Economic Journal Vol.16 (1), 2015. 

2. India's National Food Security Act 2013: food distribution through revamped public distribution system or food stamps and cash transfers? (with Paramita Bhattacharya and Alwin D'souza), Agriculture Economics Research Review, January-June, 2015.

3. Public and private capital formation and agricultural growth: state-wise analysis of inter-linkages during pre- and post-reform periods, Agriculture Economics Research Review, 27(1), Jan-June, 2014.

4. Price transmission and asymmetry: an empirical analysis of Indian groundnut seed and oil markets (with R. Srinivasulu), Indian Journal of Agricultural Economics, Oct-Dec. 2011.

5. Capital formation in Indian agriculture: revisiting the debate, (with Ashok Gulati), May 19-26, Economic and Political Weekly, Mumbai, 2001. 
Recent Peer Reviewed Journals/Books (upto 3):
1. Agro-industry: the food processing sector, chapter 13 in World Bank report: India- accelerating agricultural productivity growth, 2014.

2. Organised fresh food retail chains vs. traditional wholesale markets: marketing efficiency and farmers' participation, In C.Rao, R.Radhakrishna, R.K.Mishra and K.Venkata Reddy edited, "India studies in business and economics". Springer, 2014.

3. Trade liberalization and Indian agriculture, Rawat Publications, Jaipur 2011.