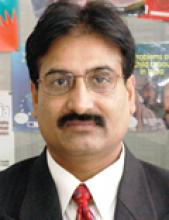 Centre/School/Special Centre:
Centre for Inner Asian Studies,
School of International Studies
Email:
sksoni@mail.jnu.ac.in sharadksoni@gmail.com
Qualifications:
MA, M.Phil, Ph.D in Central Asian Studies, School of International Studies, Jawaharlal Nehru University, New Delhi.  
Areas of Interest/Specialization:
Mongolian, Central Asian and Inner Asian Studies with focus on history, culture, ethnicity, politics and international relations of Mongolia, Kazakhstan as well as Tibet and Inner Mongolia Autonomous Regions of China, apart from issues concerning Mongol culture areas of Siberian Republics of Tuva and Buryatia. 
Experience:
15 Years of Teaching and Research 
Awards & Honours:
1. Visiting Faculty, L. N. Gumilyov Eurasian National University, Astana, Kazakhstan (May-June 2014)
2. "Letter of Appreciation" from L.N. Gumilyov Eurasian National University, Astana, Kazakhstan for contribution to the success of Summer School (June 2013).
3. Visiting Scholar, Mongolian Academy of Sciences, Ulaanbaatar, Mongolia (July-August 2011).
4. Visiting Faculty, School of International Studies, Peking University, Beijing, China (2005-06).
5. Joint Secretary, Association of ASIA Scholars (an Asia-wide Network of ASF Alumni Fellows) since 2009.
6. Award of Honour conferred on behalf of Centre for Indian Studies in Mongolia, Ulaanbaatar (2007).
7. ASIA Fellows Award (2005-06) from Ford Foundation funded Asian Scholarship Foundation, Bangkok (Thailand). 
International Collaboration/Consultancy:
1. Book Review Editor for South Asia, Asian Ethnicity Journal (Routledge, UK) since January 2013. 
2. Member, Editorial Board, Khabarshy (Herald), a Journal of L. N. Gumilyov Eurasian National University, Astana, Kazakhstan since September 2013. 
Best Peer Reviewed Publications (upto 5):
1. "Repatriation of Oralmans and their Socio-economic Integration in Kazakhstan", in Mondira Dutta (ed.), Gender and Human Development in Central and South Asia. Pentagon Press, New Delhi, 2013. 168-179.
2. Mongolia in the 21st Century: Society, Culture and International Relations (New Delhi and London: Pentagon, 2010), 372 pp. [Co-editor].
3. Modern Mongolia: A Concise History (New Delhi: Pentagon, 2007), 206 pp.[Co-author].
4. Mongolia-China Relations: Modern and Contemporary Times (New Delhi: Pentagon, 2006), 328 pp.
5. Mongolia-Russia Relations: Kiakhta to Vladivostok (Delhi: Shipra Publications, 2002), 272 pp. 
Recent Peer Reviewed Journals/Books (upto 3):
1. "The 'Third Neighbour' Approach of Mongolia's Diplomacy of External Relations: Effects on Relations between India and Mongolia", India Quarterly, vol. 71, no.1, January-March 2015, pp.37-52.
2. "Russian Policy towards Northeast Asia: The Mongolia Factor", Mongolian Journal of International Affairs (Ulaanbaatar), vol. 19, 2014, pp.34-48.
3. "Mongols of Xinjiang: A Retrospective Overview", Mongolica (Ulaanbaatar), vol. 47, 2014, pp.139-152.