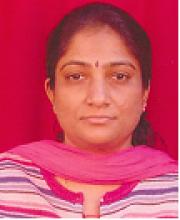 Centre/School/Special Centre:
Email:
sneh@mail.jnu.ac.in , sneh10@hotmail.com
Areas of Interest/Specialization:
Yeast Molecular Genetics in S. cerevisiae and the pathogenic fungus Candida albicans
Awards & Honours:
Indian Young Biotechonologist Award from DBT, 2007
C. R. Krishnamurthy Young Scientist Award, 2000
Gold Medal for Standing first in M.Sc Biochemistry from Delhi University
Qualified the Graduate Aptitude test in Engineering (GATE), conducted by Indian Institute of Technology, Delhi, 1994 (99.14 percentile, All India Rank -20th). 
International Collaboration/Consultancy:
Collaborations with:
University of Madrid, Spain
John Hopkins, USA
University of Aberdeen, Aberdeen, UK
Best Peer Reviewed Publications (upto 5):
* Mitochondria Influence CDR1 Efflux Pump Activity, Hog1-Mediated Oxidative Stress Pathway, Iron Homeostasis, and Ergosterol Levels in Candida albicans. Thomas E, Roman E, Claypool S, Manzoor N, Pla J, Panwar SL. Antimicrob Agents Chemother. 2013 Nov;57(11):5580-99. doi: 10.1128/AAC.00889-13.
* Transcriptional activation and increased mRNA stability contribute to overexpression of CDR1 in azole-resistant Candida albicans. Manoharlal R, Gaur NA, Panwar SL, Morschhäuser J, Prasad R. Antimicrob Agents Chemother. 2008 Apr;52(4):1481-92. doi: 10.1128/AAC.01106-07.
* Long chain base tolerance in Saccharomyces cerevisiae is induced by retrograde signals from the mitochondria.Panwar SL, Moye-Rowley WS. J Biol Chem. 2006 Mar 10;281(10):6376-84.
* Transcriptional regulation by Lge1p requires a function independent of its role in histone H2B ubiquitination. Zhang X, Kolaczkowska A, Devaux F, Panwar SL, Hallstrom TC, Jacq C, Moye-Rowley WS. J Biol Chem. 2005 Jan 28;280(4):2759-70. Epub 2004 Nov 4.
* MFalpha1, the gene encoding the alpha mating pheromone of Candida albicans. Eukaryot Cell. 2003 Dec;2(6):1350-60.