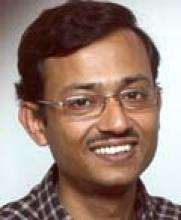 Centre/School/Special Centre
Special Centre for Molecular Medicine
Email
souvik@jnu.ac.in, sbh174@gmail.com
Qualifications
2004: Ph.D. Institute of Microbial Technology, Chandigarh, India.
1997: M.Sc. Biotechnology. Madurai Kamaraj University, Madurai, India.
1995: B.Sc. (Honors) Biochemistry, Delhi University.
Areas of Interest/Specialization
Infectious diseases in plants and animals, Malaria, Protein trafficking, artemisinin resistance
Experience
Associate Professor, Special Centre for Molecular Medicine, Jawaharlal Nehru University, New Delhi, India. July 2015-present. Research Assistant Professor, Center for Rare and Neglected Diseases, Department of Biological Sciences, University of Notre Dame, Notre Dame, Indiana. 2010 – 2015. Research Associate, Laboratory of Prof. Kasturi Haldar, Center for Rare and Neglected Diseases, Department of Biological Sciences, University of Notre Dame, Notre Dame, Indiana. 2008 - 2010. Post-doctoral fellow, Laboratory of Prof. Kasturi Haldar, Department of Pathology, Feinberg School of Medicine, Northwestern University, Chicago. 2004 - 2008.
Awards & Honours
2007: Travel Grant awarded by the Center for Genetic Medicine, Northwestern University to attend Gordon Red Cell Meeting (GCM) at Aussois, France.
2004: Northwestern University award for Best Poster presentation at the Department of Pathology, Chicago.
1999-2002: CSIR/UGC National Eligibility Test Senior Research Fellowship (SRF). Government of India.
1997-1999: CSIR/UGC National Eligibility Test Junior Research Fellowship (JRF). Government of India.
1995-1997: M. Sc. Biotechnology Fellowship from the Department of Biotechnology (DBT), Ministry of Science and Technology, Government of India.
International Collaboration/Consultancy
Best Peer Reviewed Publications
Hari Madhav, Tarosh S. Patel, Zeba Rizvi, G. Srinivas Reddy, Abdur Rahman, Md. Ataur Rahman, Saiema Ahmedi, Sadaf Fatima, Kanika Saxena, Nikhat Manzoor, Souvik Bhattacharjee, Bharat C. Dixit, Puran Singh Sijwali, Nasimul Hoda. Development of diphenylmethylpiperazine hybrids of chloroquinoline and triazolopyrimidine using Petasis reaction as new cysteine proteases inhibitors for malaria therapeutics. European Journal of Medicinal Chemistry. Volume 258, 5 October 2023, 115564.
Pal K, Raza Md. K, Legac J, Rahman A, Manzoor S, Bhattacharjee S, Rosenthal PJ and Hoda N. Identification, in-vitro anti-plasmodial assessment and docking studies of series of tetrahydrobenzothieno[2,3-d]pyrimidine-acetamide molecular hybrids as potential antimalarial agents. European Journal of Medicinal Chemistry. Volume 248, 15 February 2023, 115055
Chaurasiya A, Kumari G, Garg S, Shoaib R, Anam Z, Joshi N, Kumari J, Singhal J, Singh N, Kaushik S, Kahlon AK, Dubey N, Maurya MK, Srivastava P, Marothia M, Joshi P, Gupta K, Saini S, Das G, Bhattacharjee S, Singh S, Ranganathan A. Targeting Artemisinin-Resistant Malaria by Repurposing the Anti-Hepatitis C Virus Drug Alisporivir. Antimicrob Agents Chemother. 2022 Dec 20;66(12): e0039222. doi: 10.1128/aac.00392-22. Epub 2022 Nov 14. PMID: 36374050
Goel N, Dhiman K, Kalidas N, Mukhopadhyay A, Ashish F, Bhattacharjee S. Plasmodium falciparum Kelch13 and its artemisinin-resistant mutants assemble as hexamers in solution: a SAXS data-driven modelling study. FEBS J. 2022 Jan 28. doi: 10.1111/febs.16378. Online ahead of print. PMID: 35092154.
Kumar T, Maitra S, Rahman A, Bhattacharjee S. A conserved guided entry of tail-anchored pathway is involved in the trafficking of a subset of membrane proteins in Plasmodium falciparum. PLoS Pathog. 2021 Nov 15;17(11): e1009595. doi: 10.1371/journal.ppat.1009595.
Nayak A, Saxena H, Bathula C, Kumar T, Bhattacharjee S, Sen S and Gupta A. Diversity‑oriented synthesis derived indole based spiro and fused small molecules kills artemisinin‑resistant Plasmodium falciparum. Malar J (2021) 20:100. https://doi.org/10.1186/s12936-021-03632-2.
Kannan D, Yadav N, Ahmad S, Namdev P, Bhattacharjee S, Lochab B and Singh S. Pre-clinical study of iron oxide nanoparticles fortified artesunate for efficient targeting of malarial parasite. EBioMedicine. 2019 Jul; 45:261-277. doi: 10.1016/j.ebiom.2019.06.026.
Bhattacharjee S, Coppens I, Mbengue A, Suresh N, Ghorbal M, Slouka Z, Safeukui I, Tang HY, Speicher DW, Stahelin RV, Mohandas N, Haldar K. Remodeling of the malaria parasite and host human red cell by vesicle amplification that induces artemisinin resistance. Blood. 2018 Mar 15;131(11):1234-1247.
Haldar K, Bhattacharjee S, Safeukui I. Drug resistance in Plasmodium. Nat Rev Microbiol. 2018 Mar;16(3):156-170. doi: 10.1038/nrmicro.2017.161. Epub 2018 Jan 22. Review.
Alassane Mbengue, Souvik Bhattacharjee*, Trupti Pandharkar, Haining Liu, Guillermina Estiu, Robert V. Stahelin, Shahir Rizk, Dieudonne L. Njimoh, Yana Ryan, Kesinee Chotivanich, Chea Nguon, Mehdi Ghorbal, Jose-Juan Lopez-Rubio, Michael Pfrender , Scott Emrich, Narla Mohandas, Arjen M. Dondorp, Olaf Wiest and Kasturi Haldar. A molecular mechanism of artemisinin resistance in Plasmodium falciparum malaria. Nature 520, 683–687 (30 April 2015).
Total Published Research Articles in National/International Journals: 29
Total Published Abstracts in National/International Journals: 15
Recent Peer Reviewed Journals/Books
Patents (if any)
'Compositions and Methods for treatment, research and therapeutic applications for malaria. Filed on 10/22/2008. US Patent No. 8,465,746, Issued: June 18th, 2013. (Inventors: Kasturi Haldar, Pamela Tamez and Souvik Bhattacharjee, Notre Dame, IN. Assignee: Northwestern University, 633 Clark Street, Evanston, IL 60208).