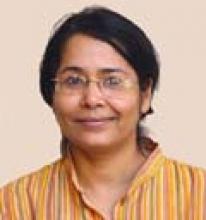 Centre/School/Special Centre:
Email:
ssaran@mail.jnu.ac.in shweta_saran@hotmail.com
Areas of Interest/Specialization:
Cell and Developmental Biology 
Awards & Honours:
* Stood SECOND in the order of merit in M.Sc. Zoology, Banaras Hindu University
* Awarded Swami Pranavananda Science Award for Young Scientist by the Indian Society for Developmental Biologists for the year 1992.
* Reader in Department of Zoology, University of Delhi
* Research assistant, Welcome Trust, University of Dundee, UK
* DST Young Scientist at SLS, JNU 
International Collaboration/Consultancy:
Best Peer Reviewed Publications (upto 5):
o Saran, S and Schaap, P (2004) Adenylyl Cyclase G is activated by an Intramolecular Osmosensor. Mol Biol of the Cell 15: 1479-1486.

o Muhia DK, Swales CA, Ludwig UE, Saran S Polly SD, Kelly JM, Schaap P, Krishna S and Baker DA (2003) Multiple splice variants encode a novel Adenylyl Cylase of possible plastid origin expressed in the sexual stage of the Malaria parasite Plasmodium falciparum. J Biol Chem 278: 22014-22022.

o Saran S, Meima ME, Curto EA, Weening KE, Rozen DE and Schaap P (2002) cAMP signaling in Sictyostelium : complexity of cAMP synthesis, degradation and detection. J of Muscle Res and Cell Motility 23: 793-802.

o Saran S, Azhar M, Manogaran P, Pande G and Nanjundiah V (1994) The level of Ca2+-chlortetracycline fluorescence in freshly starved amoeba of Dictyostelium discoideum as a predictor of cell fate. Differentiation 57:163-169.

o Saran S, Nakao H, Tasaka M, Iida H, Tsuji FI, Nanjundiah V and Takeuchi I (1994) Intracellular free calcium level and its re-sponse to cAMP stimulation in developing Dictyostelium cells transformed with jelly fish apoaequorin cDNA. FEBS Letters 337:43-47 
Recent Peer Reviewed Journals/Books (upto 3):
o Ghosh R, Chhabra A, Phatale PA, Samrat SK, Sharma J, Gosain A, Mohanty D, Saran S, Gokhale RS. (2008) Dissecting functional role of polyketide synthases in dictyostelium discoideum: Biosynthesis of differentiation regulating factor MPBB J Biol Chem. 2008 283: 11348-11354.

o Elisa Alvarez-Curto, Shweta Saran, Marcel Meima and Pauline Schaap (2007), cAMP production by adenylyl cyclase G induces prespore differentiation in Dictyostelium slugs. Development, Mar; 134(5):959-66.