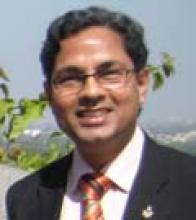 Centre/School/Special Centre:
Centre for International Politics, Organization and Disarmament,
School of International Studies
Residence:
57 Dakshinapuram, JNU Campus, New Delhi:110067
Qualifications:
M.A. (Pol Sc, DU), MPhil and PhD (Int'l Studies, JNU)
Post-Doc Diploma in Conflict Resolution (Upasala, Sweden)
Areas of Interest/Specialization:
Arms Control & Disarmament, Conflict Resolution & Peace Studies, India's Defence and Nuclear Policy, Multilateralism, Asian affairs, China's foreign and security policies, China-South Asia, China-India relations, and Emerging Powers related debates  
Experience:
1992-2001 Research Faculty at Institute for Defense Studies and Analysis (New Delhi)
2001- Faculty at School of International Studies, Jawaharlal Nehru Univ., (New Delhi)
2006- President, Association of Asian Studies (Asia-wide network)
2008- General Secretary, Indian Congress of Asian & Pacific Studies 
2012-2014 – Chief Vigilance Officer, Jawaharlal Nehru University, New Delhi 
Awards & Honours:
Asia Fellow 2001-2002; worked at School of International Studies, Beijing University
Awarded Several Visiting Professorships in China, UPEACE and other universities 
International Collaboration/Consultancy:
2005-2008 for International Relations with Center de Sciences Humaines, New Delhi 
Best Peer Reviewed Publications (upto 5):
"Quads and Triangles: Locating Japan in India's Act East Policy", (co-authored), Global Outlook, Vol. 1 No. 1 (Spring 2016), pp. 111-123.
"The State of Security Studies in India:Limitations and Potential", Millennial Asia, 6(2) 191–204
"Indo-US Cooperation in Countering Cyberterrorism: Challenges and Limitations" (co-authored), Strategic Analysis, Vol.38, No.5 (2-14), pp. 703-716
"No First Use as a Strategic Doctrine" in V R Raghavan (ed.), Global Nuclear Disarmament: Geopolitical Necessities, (New Delhi: Vij Books, 2012), pp. 56-71.
"Debating Multilateralism: The role of emerging powers" in Chandra Chari (ed.), Superpower Rivalry and Conflict: The long shadow of the Cold War on the twenty first century, (London: Routledge, 2010) 
Recent Peer Reviewed Journals/Books (upto 3):
On China By India: From Civilization to Nation State (London: Cambria Press, 2012), [Co-edited]
Emerging China: Prospects of Partnership in Asia, (New Delhi: Routledge, 2012), [Co-edited]
"Paradigm Shift in India-China Relations: From Bilateralism to Multilateralism", Journal of International Affairs (Columbia University), Vol. 64, No. 2 (Spring/Summer 2011).