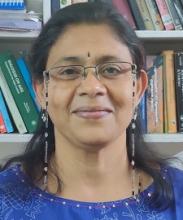 Centre/School/Special Centre
Centre for the Study of Social Systems,
School of Social Sciences
Off. Phone
011-26704150 / 26704408
Email
sujathav@mail.jnu.ac.in , vsujatha011@gmail.com
Areas of Interest/Specialization
V.Sujatha specialises in the fields of sociology of knowledge, science and technology studies and, health, culture and medicine. Her report on traditional leather artisans highlighted the trajectory of communities that practised vegetable based leather tanning and her book, 'Health by the people' (2003) analysed the significance of uncodified medical knowledge in Indian medical traditions. In the book, 'Sociology of health and medicine. New perspectives' (2014) she has sought to bring medical pluralism into the theoretical ambit of sociology of medicine. Her subsequent research on liberalisation, food and nutritional science engaged with health transitions in India and South Africa. More recently, the special journal issue that she has edited, 'Globalisation of South Asian medicine: Knowledge, power, structure and sustainability,' examines global flows of knowledge and medicines based on her fieldwork in Europe. Her latest edited volume titled, 'Global capital and social difference' (Routledge 2020) brings together an international collection of articles that propose alternative perspectives in the theorisation of globalisation.
Experience
Professor, Centre for the Study of Social Systems (CSSS), Jawaharlal Nehru University, New Delhi since 2011
Associate Professor, Centre for the Study of Social Systems (CSSS), Jawaharlal Nehru University, New Delhi from 2005 to 2011
Lecturer, Department of Sociology, Goa University, Goa, till 2005
Awards & Honours
Member, Academic Council, Madras Institute of Development Studies, Chennai, 2015-17
Visiting Professor at University of Pompeu Fabra, Barcelona, Spain 2017
Special Invitee, Inter Academy Panel on 'Women in science,' of the National Academy of Sciences India (NASI) from 2015
Visiting Professor at FLACSO Argentina in 2012
Visiting Fellow at International Institute of Asian Studies, Leiden, The Netherlands June-July 2010
UGC-DAAD Fellow at the University of Freiburg 2010
Visiting Professor at the Institute for Soziologie, University of Freiburg, Freiburg Germany, 2009
International Collaboration/Consultancy
Lead Collaborator, ICSSR-NIHSS project with University of Cape Town, South Africa from 2015-17
Best Peer Reviewed Publications
2019. 'Beyond Medical Pluralism. Medicine, power and social legitimacy in India,' in Sanjay Srivastava et al (Eds.) Critical themes in Indian sociology: (433-449) New Delhi: Sage Publications
2018. Econometric and existential understanding of food. Analysing economic growth and nutritional status in South India,' Indian Journal of Human Development, Vol 11 (3)
2015. 'Is food natural or cultural? Food, Body and 'the social' in Indian medical traditions' in Jobin Kanjirakkat Gordon Mcquat and Sundar Sarukkai (Eds.) Science and the narratives of nature in the east and the west, Routledge, pp 113-136.
2014. Sociology of Health and medicine. New Perspectives, Oxford University Press: New Delhi (http://ukcatalogue.oup.com/product/9780198099130.do)
2013. 'Knowledge, science and society' in Yogendra Singh (Ed.) Indian Sociology. Emerging Concepts, Structure and Change Vol. I, ICSSR and Oxford University Press, pp 135-196 (Co-authored by Anubhav Sengupta).
Recent Peer Reviewed Journals/Books
2020. 'Global Capital and Social difference. Between Dialectics and embeddedness,' in V.Sujatha (Ed.) Global capital and social difference: 1-21. Routledge. https://www.routledge.com/Global-Capital-and-Social-Difference/Sujatha/p/book/9780815360490)
2020. 'The Universal and the global: Contextualising European ayurvedic practices', Society and Culture in South Asia 6 (1): 52-73
2020. Counting food? The pitfalls of caloric conception of nutrition and alternative theories of food,' in Christoph Wulf and Axel Michaels (Eds.) Science and Scientification in South Asia and Europe, Routledge India