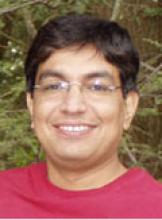 Centre/School/Special Centre:
Email:
sushilkjha@mail.jnu.ac.in
Areas of Interest/Specialization:
Awards & Honours:
Awards:
Scopus Young Scientist Award (Elsevier, India, 2007)
Young Investigator Award (Sleep Research Society, USA, 2006)
Faculty Career Development Award (American Sleep Medicine Foundation, USA, 2005)
Trainee Merit Based Travel Award (Sleep Research Society, USA, 2004)
B.K. Anand Research Award (Association of Physiologists and Pharmacologists of India, 2001)

Honors:
Journal "Science" Editor's Choice: Sleep consolidates Visual Experience tested by Jha et al., Science, 310; 407, 2005.http://www.sciencemag.org/content/vol310/issue5747/twil.dt l
This week in the Journal: Sleep-Dependent Synaptic Plasticity, The Journal of Neuroscience, October 5, 2005 • 25(40):i • i.http://www.jneurosci.org/cgi/content/full/25/40/0-i
A TV program on NDTV "Secret Lives" (telecasted on October 23rd and 24th, 2009). Is a 24x7 lifestyle to be blamed for extreme sleeplessness among youngsters? My views with Deepa Kamath. http://www.ndtv.com/news/videos/video_player.php?id= 1169452  
Best Peer Reviewed Publications (upto 5):
Kumar T and Jha SK. Sleep deprivation impairs consolidation of cued fear memory in rats. PLoS one, 10.1371/journal.pone.0047042. 2012.
Chowdhury A, Chandra R and Jha SK. Total sleep deprivation impairs the encoding of trace-conditioned memory in the rat. Neurobiology of learning and memory, 95(3): 355-369, 2011.
Aton SJ, Seibt J, Dumoulin M, Jha SK, Steinmetz N, Coleman T, Naidoo N and Frank MG. Mechanisms of Sleep-Dependent Consolidation of Cortical Plasticity. Neuron, 61(3): 454-66, 2009.
Jha SK, Jones BE, Coleman T, Steinmetz N, Law CT, Griffin G, Hawk J, Dabbish N, Kalatsky VA and Frank MG. Sleep-dependent plasticity requires cortical activity. J Neurosci, 25(40): 9266-74, 2005.
Jha SK, Brennan FX, Pawlyk AC, Ross RJ and Morrison AR. REM Sleep: A sensitive index of fear conditioning in rats. Eur J Neuroscience, 21 (4): 1077–80, 2005. 
Recent Peer Reviewed Journals/Books (upto 3):
Qureshi MF and Jha SK. Proton Pump Inhibition Increases Rapid Eye Movement Sleep in the Rat. BioMed Res. Intl., 2014. http://dx.doi.org/10.1155/2014/162314
Kant D, Tripathi S, I Qureshi MF, Tripathi SII, Pandey S, Singh G., Kumar T, Mir FA, Jha SK. The effect of glial glutamine synthetase inhibition on recognition and temporal memories in the rat. Neurosci. Lett. 560: 98-102, 2014.
Madan V and Jha SK. A moderate increase of physiological CO2 in a critical range during stable NREM sleep episode: a potential gateway to REM sleep. Frontiers Neurology, 3(19): 1-6, 2012.