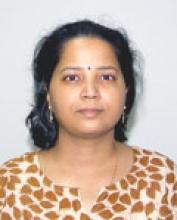 Centre/School/Special Centre:
School of Physical Sciences
Email:
tmohanty@mail.jnu.ac.in , tanujajnu@gmail.com
Qualifications:
Ph.D. (Physics) Utkal University, Odisha -1999 
(Research work done at Nuclear Science Centre, New Delhi)
Areas of Interest/Specialization:
Experimental Condensed Matter Physics: Nanoscale semiconductor and metals, Graphene and graphene based nanocomposites, Ion interaction with solids 
Experience:
Assistant Professor, School of Physical Sciences, JNU (April-2006 onwards)
Post Doctoral Scholar, Inter University Accelerator Centre, New Delhi: (2004-2006)
Research Associate: Inter University Accelerator Centre, New Delhi: (2000-2004)
Project Scientist, Physical Department, IIT Delhi, (1998-1999) 
Awards & Honours:
DST-DAAD Research Project (personnel exchange programme)- 2011
DST Fast Track Young Scientist Project: 2004
CSIR Research Associate award: 2000 
SBI award for State Topper (HSC exam, Board of Secondary Education), Odisha -1984
State Merit Scholarship from 1984-1991 
International Collaboration/Consultancy:
Physics Department, Duisburg University, Essen, Germany 
Best Peer Reviewed Publications (upto 5):
* Role of Oxygen in the work function modification at various stages of chemically synthesized graphene, Mukesh Mishra, Rakesh K Joshi, Sunil Ojha, D. Kanjilal and T. Mohanty, J. Phys. Chem. C, 117 (2013) 19746-19750
* Correlation of photodegradation efficiency with surface potential of silver-TiO2 Nanocomposite thin films, Avesh Kumar, Arun S Patel and T. Mohanty, J. Phys. Chem. C 116 (2012) 20404 
* Fermi level shifting of TiO2 nanostructures during dense electronic excitation, Avesh Kumar, M. K. Jaiswal, D. Kanjilal, R.K. Joshi and T. Mohanty, Appl. Phys. Lett. 99 (2011) 013109
* Synthesis of nanocrystalline Tin Oxide thin film by swift heavy ion irradiation, T. Mohanty, P V Satyam and D. Kanjilal, J. of Nanosci. Nanotechnol. 6, (2006) 2554.
* Nanoprecipitation in transparent matrices using an energetic ion beam T. Mohanty, A. Pradhan, S. Gupta and D. Kanjilal, Nanotechnology 15 (2004) 1620. 
Recent Peer Reviewed Journals/Books (upto 3):
* Probing the Förster Resonance transfer between fluorescent copper nanocluster and Cobalt complex, Arun Singh Patel, Harekrushna Sahoo and Tanuja Mohanty, Appl. Phys. Lett. 105 (2014) 063112 
* Electro-optic modulation induced enhancement in photocatalytic activity of N-doped TiO2 thin films, Avesh Kumar and T. Mohanty, J. Phys. Chem. C 118 (2014) 7130
* Silver nanocluster in BSA template: a selective sensor for hydrogen peroxide, Aru Arun Singh Patel and T. Mohanty, J. Mater. Sci. 49 (2014) 2136