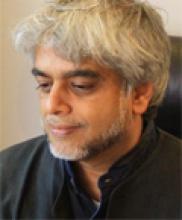 Centre/School/Special Centre:
Centre for English Studies,
School of Language Literature and Culture Studies
Off. Phone:
+91-11-26738977, 26708935
Email:
udayakumar@mail.jnu.ac.in , udayaxkumar@gmail.com
Qualifications:
BA (Kerala), MA (Kerala), DPhil (Oxon) 
Areas of Interest/Specialization:
Autobiographical writing; Death and contemporary culture; Emotions and political life; Literary and cultural theory; Modern Indian writing, especially from Kerala; Cultural histories of the body, Idioms of vernacular social thought; and Modern literary cultures and questions of publicness.
Experience:
Centre for English Studies, JNU (October 2015- )
Department of English, Delhi University (1997-2015)
Centre for Studies in Social Sciences, Calcutta (2005-8)
Indian Institute of Advanced Study (1995-7)
University of Pune (1988-9; 1991-2) 
Awards & Honours:
Senior Fellow, Nehru Memorial Museum and Library (2012-14)
Leverhulme Visiting Professor, Newcastle University (2009-10)
International Collaboration/Consultancy:
Member, Editorial Advisory Board, Routledge Encyclopedia of Modernism (2011- )
Member, Leverhulme Research Network on Postcolonial Translation (2009-11) 
Best Peer Reviewed Publications (upto 5):
Book:
Writing the First Person: Literature, History and Autobiography in Modern Kerala. Ranikhet: Permanent Black, 2016.
The Joycean Labyrinth: Repetition, Time and Tradition in `Ulysses'.  Oxford: Clarendon Press, October 1991, rpt. 2001.
Papers:
'Choosing a Tongue, Choosing a Form: Kamala Das's Bilingual Algorithms,' in Rosella Ciocca and Neelam Srivastava, eds., Indian Literature and the World: Multilingualism, Translation and the Public Sphere (London: Palgrave Macmillan, 2017), pp. 87-102.
 'The Strange Homeliness of the Night: Spectral Speech and the Dalit Present in C. Ayyappan's Writings,' Studies in Humanities and Social Sciences, XVII: 1 and 2 (2010, pub. 2013) pp. 177-91.
 'Self, Body and Inner Sense: Some Observations on Sree Narayana Guru and Kumaran Asan', Studies in History, vol. 13, no. 2 (July-December 1997), pp. 247-70. Reprinted in The Indian Postcolonial, eds. Elleka Boehmer and Rosinka Chaudhuri (London: Routledge, 2011), pp. 214-37.
Recent Peer Reviewed Journals/Books (upto 3):
'Life, Resistance and Resignation: Testimonial Lessons of Dispossession,' in Displacement and Citizenship: Histories and Memories of Exclusion, eds. Vijaya Rao, Shambhavi Prakash, Mallarika Sinha Roy, and Papori Bora (New Delhi: Tulika Press, 2020), pp. 1-20.
'The Perfect Imperfect: Democracy and the Ethics of Self-ruination," Cultural Critique, 105 (Fall 2019), pp. 223-39.
'The Legibility of Things: Objects and Public Histories in N. S. Madhavan's Litanies of Dutch Battery,' in Narratology and Ideology: Encounters between Narrative Theory and Postcolonial Criticism, eds. Divya Dwivedi, Henrik Skov Nielsen & Richard Walsh (Ohio: Ohio State University Press, 2018), pp. 74-90.
'Sovereignty, Allegory and Political Affect: K. Narayana Kurukkal's Novels,' in Novel Formations: The Indian Beginnings of a European Genre, eds. Baidik Bhattacharya and Sambudha Sen (Ranikhet: Permanent Black, 2018), pp. 167-210.