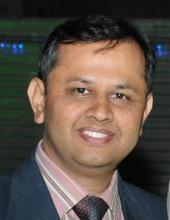 Centre/School/Special Centre
Intellectual Property Management Cell
Email
unnatppandit@mail.jnu.ac.in, office@unnatpandit.com
Qualifications
MSc, PhD, BCJP, LLB, PGDPL, Exe. GMP (IIM Lucknow)
Areas of Interest/Specialization
| | |
| --- | --- |
| Intellectual Property Rights Management | Innovation Management |
| Entrepreneurship Management | Incubation Management |
| Technology Development & Deployment | Technology & IP Valuation |
| Products & Services based on Innovative technologies/Platforms | Technology Licensing & IP due diligence |
| Start-up Mentoring and Innovation Funding | Govt Grants Management and Corporate Social Responsibility |
Experience
Formerly, Program Director of Atal Innovation Mission (AIM), engaged in planning, implementation and monitoring of various central government initiatives on Innovation, Entrepreneurship, Startups, Incubation and Intellectual Property Management, Public Policy and various initiatives/programs taken up at NITI Aayog – A policy think tank of Government of India

On the front end, engaged in various initiatives, multidimensional planning and expansion of AIM Programs including Atal Tinkering Labs, Atal Incubation Program, Atal Community Innovation Centre and Atal New India Challenges, like to build the creativity and innovation ecosystem via nurturing the startups, innovation design to serve society with tech-driven solutions, Incubation and Entrepreneurship.

Managed Innovation Exhibitions organized in partnership with Israel, Singapore and Russia partners. Engaged in planning execution of Three Champions of Change events, Global Entrepreneurship Summit organized in India.

Served as Officer on Special Duty to thenCommerce & Industry Minister, Smt. Nirmala Sitharaman at Department of Industrial Policy & Promotion, Ministry of Commerce & Industry, Govt. of India.

Former Member of IPR Think Tank

constituted by Department of Industrial Policy and Promotion (DIPP), Government of India to draft National IPR Policy of India.
Head of IP at Cadila Pharmaceuticals Ltd and Dy Manager (IP Management) at Dr. Reddy's Lab
Lecturer at U B Bhagat Science Mahila College, Amreli, Gujarat, JRF at B V Patel PERD Centre and Research Fellow at Dept of Chemistry MK Bhavnagar University.
Awards & Honours
Government Association,
Board Member of National Biodiversity Authority, Ministry of Environment, Forests and Climate Change, Govt of India

Member of Innovation Committee Constituted for CSIR Re-orientation by DSIR, Ministry of Science & Technology, GoI

Member of Research Advisory Board, National Council of Science Museums, Ministry of Culture, Govt of India
Member of a Task Group on Skill & Education to design a road map for, "COVID-19 Impact: Perspective Plan for Haryana", formed by Govt of Haryana  

Member of a National Level Committee constituted for setting up of Innovation Hubs under SPoCS Scheme by National Council of Science Museums (NCSM) under Ministry of Culture, Govt of India 

Member of Expert Committee on National Center of Excellence Animation Visual Effect, Gaming and Comics, Information & Broadcasting Ministry, Govt of India

Member of State Apex Committee for IPFC, Education Department, Government of Gujarat

Member of Drafting Committee of New Innovative Startup Policy, Delhi Dialogue Commission (DDC), GNCT of Delhi   

Trustee, Research for Resurgence Foundation enabling intellectual property driven Bharatiya research

Distinguish Fellow of Sanrachna - A research-driven policy think tank of India
Academic Association,
Chairperson, IPM Cell Committee and Academic Council Member of Jawaharlal Nehru University

Member of Governing Council, BMS Institute of Technology and Management, Bangalore, Karnataka

Member of Board of Governance, C V Raman Global University, Bhubaneswar, Odisha

Member of Advisory Board, Centre for Intellectual Property Rights, Gujarat National Law University

Honorary Visiting Professor of IP and Innovation at SGT University, Gurugram, NCR Delhi

Former Member, Academic Council and Member, Research Council, Gujarat Technological University, Ahmedabad

Former Member, Academic Council, National Resource Centre (NRC) of UGC-HRDC-SGB Amravati University
International Collaboration/Consultancy
Global Innovation and Diplomacy Director at SGTU - UMKC India Center for Socio-Legal Research

Member of Advisory Board, American Academy of Yoga and Meditation (AAYM), USA

Training on IP at Japan Patent Office, Japan Institute of Invention & Innovation and Asia Pacific IndustrialProperty Centre on nomination by GoI and visited Tokyo in July 2010 to acquire "IP Management" training for advanced IP practitioners.
Best Peer Reviewed Publications
Quinazoline clubbed thiazole and 1,3,4-oxadiazole heterocycles: synthesis, characterization, antibacterial evaluation, and molecular docking studies : Phosphorus, Sulfur, and Silicon and the Related Elements : N Desai and Unnat Pandit et al,

https://doi.org/10.1080/10426507.2021.1871732

Antimicrobial screening of quinazolinones, thiazolidinones, azetidinones and oxadizoles bearing quinoline motifs

NC Desai, A Dodiya, U Pandit; J Pharmacol 1, 6

Hybrid Bioactive heterocycles as Potential Antimicrobial Agents – A reviewDesai Nisheeth, Unnat Pandit et al Mini-Reviews in Medicinal Chemistry (Bentham science Publishers)(2016 Vol 16, No 18: DOI: 10.2174/1389557516666160609075620)

Thiazolidinedione compounds: a patent review (2010 – present)Desai Nisheeth, Unnat Pandit et al Expert Opinion on Therapeutic Patents (Impact Factor: 3.441) Apr 2015, Vol. 25, No. 4: 479–488.

Synthesis and antitubercular activity of novel pyrazole–quinazolinone hybrid analogsUnnat Pandit et al Medicinal Chemistry Research (Impact Factor: 1.61). 07/2012; 22(7). DOI: 10.1007/s00044-012-0351-0
Recent Peer Reviewed Journals/Books
Do You Know: Dr. APJ Abdul Kalam? by Grapewine Publications, New Delhi.

Prerana Ki Udaan in Hindi by PrabhatPrakashan, Delhi

Prerana nu Zarnu: Dr Abdul Kalam in Gujarati by RashtraAaradhan, Ahmedabad

The book is also under translation in different regional languages i.e. Assamese, Marathi, Telugu, Malayalam and Tamil

To make the book available for visibility challenged people, the instant publication will also be typed in Braille which may be the first book of Dr.Kalam available in Braille.
Patents (if any)
Novel triazole based fluoroquinolonesPatent application No: IN 420/MUM/2015 which is granted as IN314011

Thiadiazole based fluoroquinolonesPatent application No: IN 421/MUM/2015 which is granted as IN327667

Novel oxadiazole based fluoroquinolonesPatent application No: IN 422/MUM/2015 which is granted as IN314847